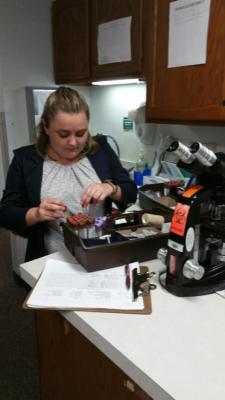 "Enjoy it." That is what I was told almost everyday at my internship. They were not talking about the internship itself but the learning process.
When I walked in on my first day I did not imagine that I would give my first shot, assist on procedures or have the opportunity to learn and discuss patient care with the provider I was working with. I thought that I would be the person running after this and that and never actually having time to sit down and talk in depth about questions that I might have had. Dr. Kermani made this internship more about fun and learning than work.
Yes, I did have to do things like stock the lab carriers or clean up the procedure room but all of it was about learning. Between my work she allowed me to sit in on patient visits and talks in depth about their care. I enjoyed every minute of this internship and would do it again in a heartbeat.
Krislynn Lancaster is a Molecular Biology/Biochemistry major from Milford, Indiana, who spent her 2018 internship at Goshen Physicians Family Medicine Syracuse.