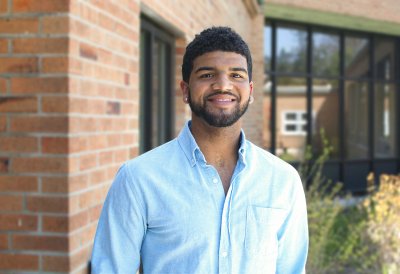 Jesse Loewen, a 2017 graduate from Goshen, loves to meet new people. His hope is to one day become a guidance counselor or academic advisor to help young people succeed.
What do you like most about Goshen College?
People want to help you succeed. If people don't reach out to you at first, don't be afraid to approach them. They will gladly help you or recommend someone who can.
How has Goshen College influenced your faith or worldview?
There are many people here who are neither from the area nor Mennonite. As a Mennonite who was raised in Goshen, I have certain views and ways of doing things. But as I've met people from different backgrounds, I've had discussions that have broadened my views and helped me to see things in a different light.
What do you hope to do with your degree?
I hope to become an academic advisor or guidance counselor. My social work degree will give me a good background to relate to students and try to help them succeed regardless of the hardships they may face.
What advice would you give to a prospective student?
Be open to meeting people. If you have a friend who knows someone, then you should introduce yourself or sit with him or her at lunch. Go out, have fun, have conversations, study and manage your time. Don't be afraid to reach out to others.
What has been an influential experience at Goshen College for you?
As a member and leader of the Black Student Union, I was able to go to SCORR (Student Congress on Racial Reconciliation), a diversity conference at Biola University in Los Angeles. There were 10 or 15 other universities, both big and small. I got to meet many amazing people and listen to their stories of being someone of color. We shared about our lives as students at predominantly white institutions. I highly recommend this conference because it influenced me immensely.