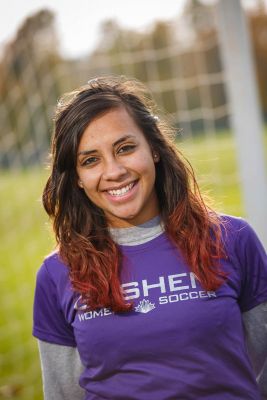 Hometown: Goshen, Indiana
Age: 20 years old
Academics: nursing major
Extracurriculars: women's soccer, Latino Student Union, Commuter Club
Religious affiliation: Catholic
Why did you choose Goshen College?
"One of the reasons I chose Goshen College was soccer. Soccer is a big part of me, so having the opportunity to continue playing after high school was exciting. Another reason I chose Goshen was because I had heard the nursing and science programs were really good here, and both were my top choices for majors, so it just seemed like the right fit. Finally, it was because it is close to home (about 10 minutes away), so I could stay close to my friends and family."
What has kept you at Goshen College?
"One of the things I really love about Goshen College is the people. The professors are so easy to communicate with, and they're always ready to clarify things for you. I also enjoy the high diversity on campus because I have the opportunity to learn about lots of different cultures all around the world."
What do you hope to do with your degree?
"With my degree I hope to continue my education and potentially become a physical therapist. My main goal would be to specialize in pediatrics, but I would not mind working with people of all ages."