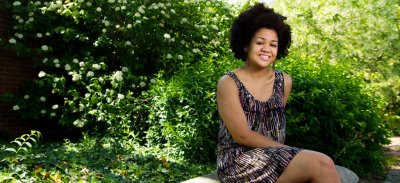 Cora Broaddus, from Lancaster, Pennsylvania, graduated from Goshen College with an English Writing degree. 
Why Goshen College?
Cora was looking for a school with lots of options. When she walked onto the Goshen College campus as a first-year, the choices were overwhelming.
"I couldn't decide what to study for the longest time," said Cora. "I felt like I could do anything, so I decided to meet with as many professors as possible to learn about different programs. I talked to so many people, and they were all so friendly and excited about whatever they were teaching."
Because Goshen is a liberal arts college, students are required to take courses in subjects outside of their major. So, throughout her first two years, Cora kept busy sampling classes before finally making her decision.
"I met with a professor from the English department and she talked to me about the new writing major. Absolutely everything about it seemed interesting."
Development and learning
Cora is happy with her choices — both to come to Goshen College and to earn an English writing degree.
"I liked the students and the teachers in my writing classes," she said. "We did a lot of peer critiques, and I felt supported. My profs took the time to read my work, too, and they gave such great feedback. I really appreciated that. I like being pushed and knowing what I need to do to make my writing better."
In return, Cora committed to helping her fellow writing students improve, too. She served as a member of the editorial board for Pinchpenny Press, a project in chapbook publishing sponsored by the English department. Several times a year, Pinchpenny Press publishes works by students and faculty, and as part of the editorial board, Cora worked closely with authors to develop, perfect and market their books.
"We got together and reviewed copies of manuscripts at multiple stages of the writing process. Being on the board was a good way for me to get experience and learn about what actually goes on in editing."
— written by Anna Ruth '12, photos by Alex Pletcher '14