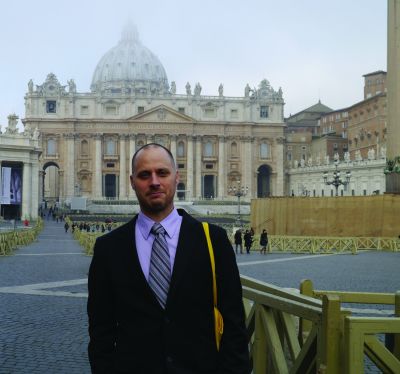 Chad M. Bauman '95, associate professor of religion at Butler University, was attending a conference on Christianity and freedom in Rome this winter when he received a surprising invitation. The Vatican took interest in the conference and unexpectedly invited participants to a private audience with the Pope.
"In my wildest imagination I had thought, 'Wow, wouldn't it be cool if I'd be able to meet the pope,'" said Bauman, who was at the conference to speak about his research on Hindu-Christian conflict in India. "But there was nothing on the schedule to indicate anything like that might happen."
Grateful that he had packed a suit and tie to wear, Bauman joined the other conference participants in the papal residence, where Pope Francis exchanged glances, gestures and a few short words with the group. He smiled and joked throughout the gathering, laughing frequently and saying "Pray for me" several times.
"The entire audience lasted only a few minutes, but even in that short encounter, many of the reasons why he has generated so much enthusiasm and hope, among both Catholics and non-Catholic observers, were readily apparent," Bauman said.