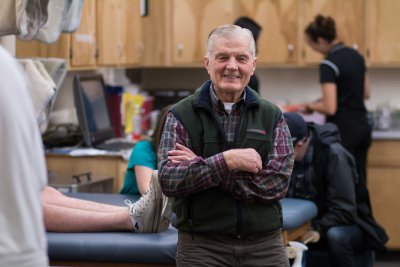 2018 Champion of Character Award Winner
By Carter McKay-Epp '19
Byron Shenk '63 has spent 67 years – including the last 28 years at George Fox University - shaping students and athletes physically, mentally and spiritually.
Shenk grew up in the Pacific Northwest where, after graduating from high school in 1956, he and his identical twin brother spent a few years working as loggers in the mountains of Oregon.
"We didn't want to go to college, we were making tons of money," Shenk said.
It wasn't until Shenk's older brother strongly encouraged that the two go to Goshen College that Shenk and his brother made the trek to Indiana. Early on in his college career, Shenk would emphatically say, "I don't want to be a preacher, teacher, doctor or lawyer."
God had other plans for Shenk.
Shenk graduated from GC in 1963 with a health and human performance major. Soon after, he began work as a physical education professor at both GC and Bethany High School. He also began coaching GC's men's soccer and track and field teams.
In 1966, Shenk did missionary work in India as part of the Mennonite Board of Missions.
"We would go out of the city, and we lived in villages with no running water and under mud hut roofs," Shenk said. "We attended county fairs and we sold Bibles and song books. I had a very wonderful time."
Upon returning from India in 1969, Shenk earned a master's degree in physical education from the University of Oregon in 1970.
Already having reneged on his plan to not preach, teach or heal, Shenk became a professor at Eastern Mennonite University (EMU). In addition to teaching, Shenk coached wrestling, men's soccer, and men's and women's track and field teams.
"Wrestling was my very favorite," Shenk said.
In 1987, after spending 17 years at EMU, Shenk went on to the University of Virginia to earn his Ed.D in sports medicine. He also got certification from the National Athletic Trainers Association, becoming a certified athletic trainer.
Shenk took a position with George Fox University in 1990 as a half-time professor and half-time certified athletic trainer. There, he founded and became the first coach of George Fox's women's soccer team. His work with the team would earn him a spot in George Fox's sports hall of fame in 2004. Shenk recently retired as a full-time professor at George Fox.
He was named the National Soccer Coaches Association of America Women's Coach of the Year for the Far West Region in both 1992 and 1998, and was the Northwest Conference Women's Coach of the Year in 1998. He also earned a national meritorious service award from the National Christian College Athletic Association for previous service and leadership.
All throughout his career, Shenk has done what he can to bring the Holy Spirit to those around him.
"I've ministered to students that were suicidal. I conducted Bible studies regularly in the dorms," Shenk said. "Many times in my classes, particularly in my time at George Fox, I've felt led to end my classes early to share a Bible verse and pray with and for the class. I've had students come to me and say, 'thank you, that verse was meant for me.'"
And while Shenk is a devout Christian, he has learned the importance of caring for those of all faiths and those with no faith at all.
"God has given me the opportunity to connect with all kinds of people," Shenk said. "And all others are equal in value to me."
Shenk lives with his wife Ina in McMinnville, Oregon, where they are active at First Mennonite Church in McMinnville.