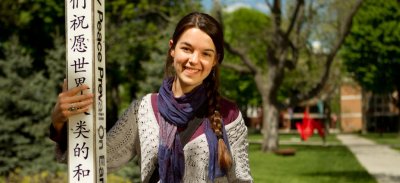 Becca Yoder, from Lancaster, Pennsylvania, graduated in 2013. She is a singer, a Spanish interpreter, a volunteer and a peacemaker who came to Goshen College to study social work, Spanish and women's studies.
Why Goshen?
Being at a small college really made me think about how I am connected to people. And the semester abroad requirement is a chance to build communication and relate to people around the world. Peace is built primarily by how you relate to others and understand where they're coming from.
I want to be a social worker, perhaps working in another country. In college I interned as a Spanish interpreter at a local clinic and with a day program for adults with developmental disabilities. I also spent time in Central America before college. I want to work directly with people and connect them to resources to give them more of a sense of hope.
I'm hopeful:
That I'll constantly learn and continue to have the energy to work for peace and a better world. I hope that people become more empathetic and understand how they affect others' lives. When you change yourself, others see that and evaluate how they live and then they begin to change.