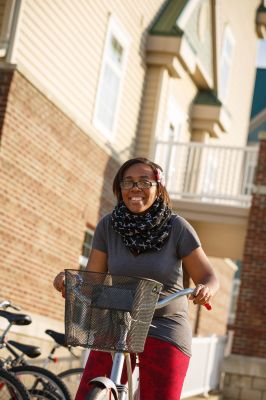 Armarlie Grier, a 2016 graduate with an English writing major from Rockford, Illinois, calls herself a xenophile—a person who is attracted to foreign cultures. That's why she minored in international studies, philosophy and TESOL.
What do you like most about Goshen and why?
What I enjoy most about Goshen is the campus atmosphere. There is this friendly aura that exudes safety, tranquility, love and acceptance. When I step on campus, I immediately know that I am valued, important and significant. I have never felt anything as majestic and as powerful as what I have felt here at GC. I feel like God placed me here for a reason.
Why did you choose to come to Goshen College?
I was intrigued by small size of the campus as well as its natural landscaping. I feel the most natural and the most human when I feel the breeze against my skin and the ground under my feet. There is a beautiful connection between respecting nature and respecting people that Goshen has mastered. Goshen, in a way, is allowing me to connect to my roots in a way I wouldn't have been able to in an urban setting.
How has Goshen College influenced your faith or worldview?
My faith has been strengthened while attending GC because I'm being challenged to explain what I believe and why I worship the way I do. I grew up in a non-denominational church that allowed me to worship in whatever way I was comfortable with—through hymns, chants and silent prayers. After I moved, unfortunately, I was unable to find a church that was as welcoming. At GC, however, I find I'm able to express my own opinions about my faith and religion in a way that wasn't really acceptable before. That does wonders for my internal growth and self-esteem.
What do you hope to do with your degree?
My ideal situation after graduation would be to travel and write about cultures. I think all the diversity we have in this world is so beautiful. I want to focus on the human essence—what makes you and me thrive and makes us strive to achieve our personal best. I think there is beauty in living, in suffering and in everything that we are, and I want to write about that. It is something that I call the breath of God—and I strive to expose and share that incredible sensation with everyone. I want a more loving, connected and understanding world, and I would love to promote that through writing.
What advice would you give to a prospective student?
I want students to know that they are free to dream big. I do not want students to be limited because of what someone else told them they couldn't do. I have lived under so much pressure, thinking I would never be good enough, but then I shatter all those thoughts whenever I finally achieve something. I know without a doubt that students are capable of achieving anything they really want. As long as they have someone to support them, they will succeed. And I'm willing to be part of that support group for them.