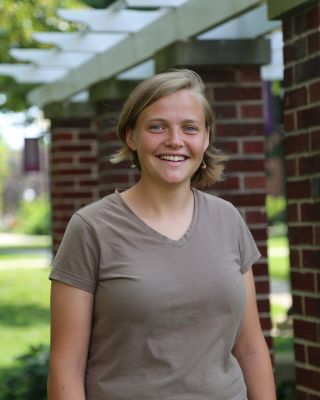 Ardys Woodward, a 2017 art and social work graduate from Kansas, came to Goshen for its strong academics, but quickly felt at home in a place where critical thinking is common even outside the classroom.
What do you like most about Goshen and why?
I like the people best! I've met some wonderful people while at Goshen. I am enjoying a student body that attempts to approach tough topics, like LGBTQ rights, racism and sexism, among many other things. Much of the student body approaches and addresses these issues, looking for good dialogue and critical thinking.
Why did you choose to come to Goshen College?
I chose to come to Goshen for a couple of reasons. First, Goshen has strong programs for the fields I want to go into. Second, I have a lot of family who have gone to Goshen, and they've had a lot of good things to say about this school.
How has Goshen College influenced your faith or world view?
Goshen has allowed me a space to critically think about my perspectives and beliefs. My beliefs have developed throughout my first year here, and I hope that they keep developing as I continue as a student.
What do you hope to do with your degree?
I hope to positively impact my environment! I want my degree to give me the skills to do what I love, and to do it well.
What advice would you give a prospective student?
My advice would be to become involved in different activities on and off campus. Getting connected and learning more about the community is helpful for feeling more comfortable.
Tell us an influential experience you've had outside the classroom.
A meaningful out-of-classroom learning experience was attending the Goshen Monologues. This was an event organized by Goshen College women with the purpose of sharing the stories and experiences of the women currently on campus. It was simply amazing.