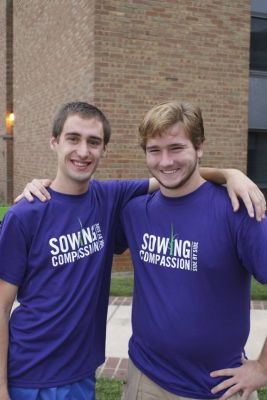 Ammon Allen-Doucot was a 2016 Bible and religion graduate from Hartford, Connecticut. He was active in Social Reform Club, PAX Club, Ultimate Frisbee Club and worked at the Campus Center for Young Children.
What do you like about Goshen College?
Goshen's student body is, by large, well informed. Upon the rare occasion when it isn't, students make incredible efforts to learn more. I honestly feel like the students here want to learn about the world and then enact positive change.
Why did you choose to come to GC?
I wanted to study the Bible in a community with an ear for peace and justice. When I visited the campus, I felt at home because everyone cared so much. It was nothing like the apathy I was used to seeing in the world.
How has Goshen College influenced your faith or worldview?
Goshen College has given me the tools I need for introspection and deepening my faith while simultaneously providing outlets for me, and those like me, to act on those ideals.
What do you hope to do with your degree?
In the long term, I plan on going into seminary. I also want to live in an intentional community and live out the ideals I am forming now.
What is an influential experience you've had at Goshen?
By far, one of the best experiences I have had was the class Justice in Our Lives, taught by Carolyn Shrock-Shenk and Glenn Gilbert at the Elkhart County Jail. Through the Inside Out Program, we left the traditional classroom and made a new one with the help of men who are being housed there. It was one of the most influential experiences I have had in my life.
What advice would you give a prospective student?
Make sure you spend time on the third floor of Wyse Hall—all the cool professors are there. If you visit on a Wednesday, there's Ultimate Frisbee in the evening.