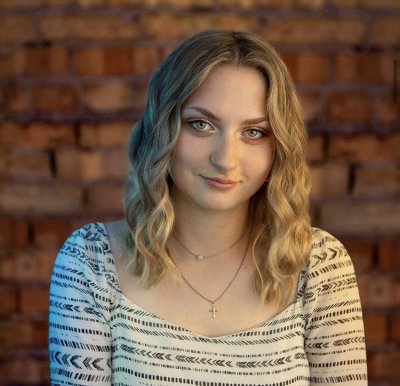 Fort Wayne, Indiana
Major: Broadcasting, Music minor
Why did you choose Goshen?
I chose Goshen solely for the Globe and the broadcasting program. When I came to Goshen to visit, I fell in love with the Globe and the positive environment the Globe had to offer. (Professors) Jason Samuel and Kyle Hufford were so welcoming and they let me talk on air when I visited.
Why did you choose your major?
I chose my major because I love talking to people and I love public speaking. I love meeting new people and learning new things about them. I like to be creative and broadcasting allows a lot of creativity. I can never see myself working a sit down 9-5 job. With a degree in broadcasting, I will be able to do something different everyday, meet new people, have world experiences, and make an impact on viewers and listeners.
What career are you interested in pursuing?
I am interested in pursuing a career in TV news reporting.
What is a valuable experience that you have had at Goshen?
A valuable experience I have had at Goshen is being part of the Globe. I have met so many amazing people as a result of the Globe. I was able to have air time my first semester of college, which I would not have had if I had gone to a different school.
I won a national award for my political news coverage and I won a state award for my girl scout news story and my newscast. I would never have been able to do that if Jason Samuel and Kyle Hufford and the rest of the Globe had not believed in me, pushed me to succeed, and given me opportunities to succeed. I have learned so much from being a part of the Globe. I cherish the friendships and opportunities that I have had in being a part of the Globe.