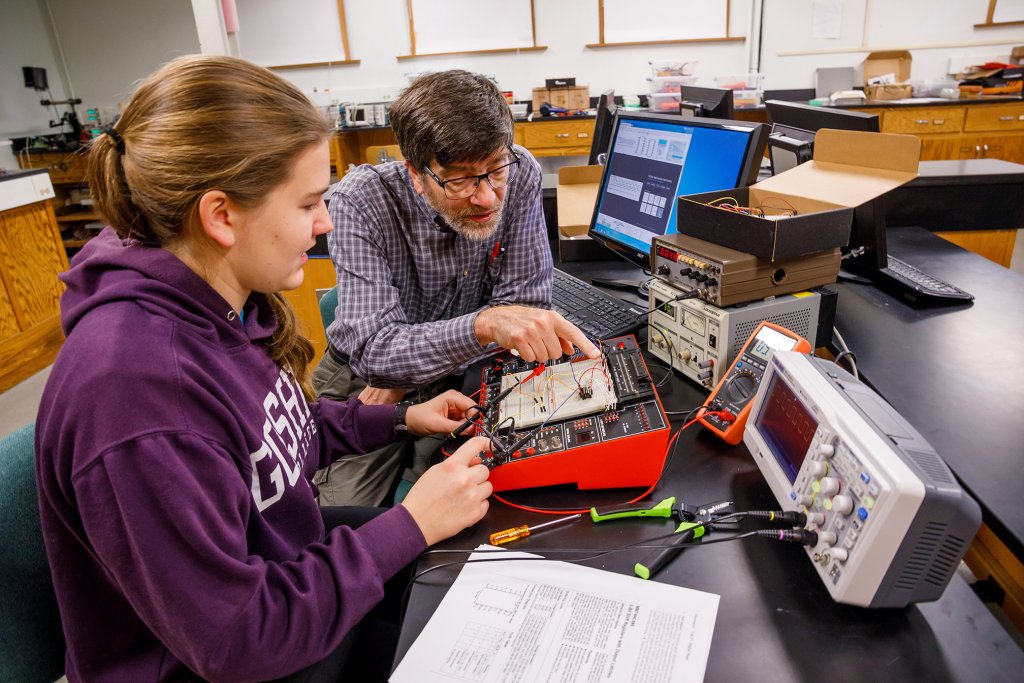 The academic ethos at Goshen College is rigorous and engaging. Below is a summary of honors opportunities available to undergraduate students enrolled at Goshen College:
A variety of competitive achievement scholarships (including up to full-tuition) are available to new students enrolling at Goshen College. Our achievement scholarships recognize your interests, accomplishments and promise of future achievement at Goshen College.
An annual Academic Research Symposium features exemplary student research and writing. The symposium brings together students and faculty members involved in original research and scholarly activity from all disciplines. A selection of papers representing the quality of student research at Goshen College is published in the archive.
The Dean's list celebrates the achievement of students who have met high academic standards and can motivate students preparing for graduate studies. Students who have earned a semester GPA of 3.75 or higher on at least 12 credit hours of course work for a letter grade and who have no grades of incomplete are named to the list. It is published after the fall and spring semesters.
Similar to the Maple Scholars Program, the Hickory Scholars program is an eight-week summer research program. The program is hosted at Merry Lea Environmental Learning Center, Goshen College's 1,189-acre nature sanctuary located near Wolf Lake, Indiana. Merry Lea is a popular location for students doing summer research in a variety of disciplines, from nesting behaviors of songbirds to studies of the role of Traditional Ecological Knowledge in land conservation programs. Students can conduct research independently towards senior research projects, but there are also several paid research opportunities available each summer.
Academic honors are awarded to baccalaureate degree graduates who have earned a cumulative grade point average of 3.6 or above (A = 4.0) and with no grade lower than a C at Goshen College. To qualify for graduation honors, students must have completed at least 48 graded semester hours in a traditional program or at least 40 graded semester hours in a degree completion program at Goshen College.
Summa Cum Laude: 3.90-4.00 GPA (with highest honor)
Magna Cum Laude: 3.80-3.89 GPA (with great honor)
Cum Laude: 3.60-3.79 GPA (with honor)
Each summer the Maple Scholars program supports numerous student-faculty research partnerships. Maple Scholars is an eight-week program that gives students the opportunity to participate in independent research alongside Goshen College faculty of various disciplines. Each scholar is paired with a faculty member who works with and supervises individuals to help carry out their work. Students who are selected as Maple Scholars live in campus housing and receive a stipend.