---
Opera: Orfeo ed Euridice, composed by Christoph Willibald Glück; with libretto by Ranieri de' Calzabigi, The Vienna Version, 1762
Date and time: March 26 & 27 at 7:30 p.m., and March 28 at 2:30 p.m. EST
Location: Virtual: goshen.edu/livestream
Cost: Free and open to the public
---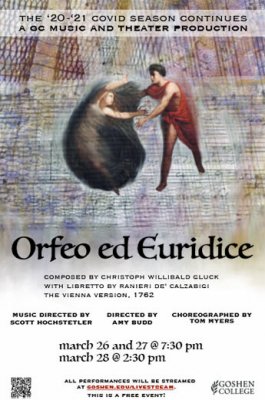 The Goshen College Theater Department will perform Christoph Willibald Glück's Orfeo ed Euridice virtually on March 26 & 27 at 7:30 p.m., and March 28 at 2:30 p.m. EST. The Spring Mainstage opera will be streamed at goshen.edu/livestream.
First performed in 1762, Glück's Orfeo ed Euridice is based on the myth of Orpheus, who, bereft by the death of his wife, Eurydice, just after their wedding, entreats the gods to restore her to him. Won over by Orpheus' playing of beautiful, sad music, the gods send an emissary, Amore, to set a challenge for Orpheus: travel into the underworld and bring Eurydice back to the surface to restore her to life. There are two conditions: Orpheus cannot look at her along the journey, and he must never complain about the first condition. Although the original myth depicts that Orpheus' resolve fails at the last moment, all is not lost for Orpheus and Eurydice in Glück's opera.
"Glück's plot-twisting adaptation of the Orpheus and Euridyce myth celebrates the power of mercy," said Amy Budd, director and assistant professor of theater. "It shows us a world where loving actions need not be perfect to succeed. It's the perfect way to usher in the spring. It takes us all the way to Hades and back again. We return renewed to lift up one another in love and community.
This performance is directed by Budd, with music direction by Scott Hochstetler, professor of music and technical direction by Jerry Peters. Tom Myers choreographed this performance. Anna Kurtz Kuk, professor of theater, produced the show.
CAST AND PRODUCTION TEAM
Orfeo: Bek Zehr
Orfeo Understudy: Emmy Rupp
Amore: Lisa Rosado Rivera
Amore Understudy: Alexa Kennel
Euridice: Kailey Rice
Euridice understudy: Gussie Nafziger
Orfeo Chorus
Sopranos: Alexa Kennel, Gussie Nafziger, Erin Peters, Katy Thornthwaite
Altos: Nithya Abraham, Willa Beidler, Cadence Lee, Emmy Rupp
Tenors: Gabe Beck, Harrison Gingerich, Noah Schnabel
Basses: Stephen Lowe, Alex Miller, Xan Seymour
Stage Manager: Gloria Bontrager-Thomas
Scenic Designer: Nathan Berkey
Lighting Designer: Jacob Claassen
Costume Designer: Alex Miller
Sound Engineer: Hugh Birky
Hair and Make-up: Abigail Greaser
Assistant Stage Manager: Sarah Bailey
Assistant Lighting Designer: Adam Hinegardner
Assistant Costume Designer: Laura Miller
Assistant Hair and Make-up Designer: Aly Kennel
Five Core Student Producer: Shianne Harrison
Assistant TD: Jacob Claassen
Master Electrician: Nathan Berkey
Master Carpenter: Benji Wall
Wardrobe Manager: Alex Miller