It's hard to believe that just a few weeks ago we played broomball over lunch break.  Walking back from the frozen wetland, I heard a black-capped chickadee call out the famous "fee-bee," the notes a whole step apart and clear as a bell. With the limited snow and warmer temperatures this year, it hardly felt like we've had a winter. But, when I heard the chickadee song, Spring announced her approach loud and clear.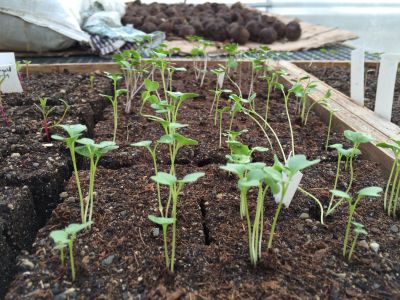 In theory, spring isn't my favorite season. I don't like the slush, the muck, the temperature swings and inconsistent weather. Working in the wind wears on me more than being outside on a still day. And, as much as I love pea shoots and lettuce, nothing compares to the rich bust of flavor from a tomato, or the hearty sweetness of winter squash.
Feeling spring, though, is an entirely different story. Instead of just trying to keep warm, the body spends more energy paying attention to detail: minding when the sap starts to run, hearing the different bird songs, searching for the first spring wildflowers. More and more, "work" is what happens outside when you're moving, not just in the office. The warmth of sun relaxes shoulders, and you can start to smell the soil again.
Okay, so we're not quite there, but as for now, I'm looking forward to spring (this streak may just be a teaser), and the work that will follow. We're gearing up for two community-supported agriculture programs on the farm this year, the arrival of two farm summer interns, a new season of our ASI program, and more animals. We'll keep you posted on our work as we move ahead in the season. As for now, I'm off to get some sun and soil in the greenhouses!