Pressed Into Service for a TV Star
by Duane Stoltzfus
Bryan shares a journal entry:
My final weekend here in Lima was as it should've been, eventful.  This past Saturday, after an afternoon spent traveling, I found myself traveling some more, to Puente Piedra. It was just a stone's throw away from my home district, Comas.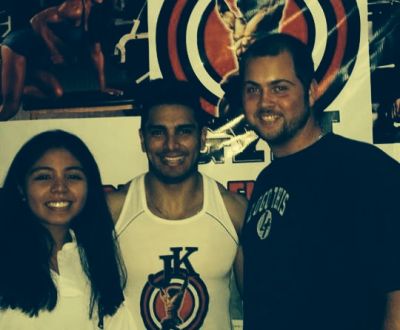 Alongside me were my host mother, sister and aunt.  Communication is a constant struggle here, so all I got out of the conversation attempt on the bus was that we were going to see someone famous.  I'm sure that I missed much of the conversation, but just as with everything else, I rolled with it.
Two loud taps on the side of the bus, and I was in Puente Piedra.  A short walk up a sand-filled road, and I arrived at the backdoor of the JK Gym.  I was greeted by my host mom's other sister, who just so happens to own the gym.  We exchanged the customary kiss on the cheek, and we all walked to the front of the gym.  The closer I got to the panes of glass that make up the front wall of the gym, the wider my eyes opened.
Just outside of this two-story brick building was a massive stage, complete with speakers surely intended for the biggest of music festivals.  Surrounding the stage were hundreds of 12- to 15-year-old girls.  Amid all this excitement, my eye was drawn to a small 3 X 1 poster on the front door.  There was a picture of a man whose name was spelled out on the poster: Rafael Cardozo.
My 15-year-old host sister, Elizabeth, was happy to inform me that he is on a television show here in Peru called "Esto Es Guerra," or "This Is War." Believe it or not, she did this without ever breaking her smile.  I'm quite sure that I was the only person in sight who wouldn't be able to tell him from the next guy on the Metropolitano, but I can understand the excitement.
After all, I'm the guy who shed a tear when his favorite musician belted out "Maybe I'm Amazed."  This Rafael guy was surely no Paul McCartney, but I wouldn't dare tell anyone there that.  Little did I know, I would be close enough to tell Rafael this myself if I wanted to.
Within an hour the man everyone was waiting for arrived.  He took the stage in a very tight white tank top with the gym's JK logo across his chest.  It was easy to see what the hundreds of adoring girls saw in him.  He flexed his muscles and made a few phone calls to some famous friends, all of which was followed by high pitched screams.  I couldn't understand what he was saying, but I was assuming it was something similar to what the reality stars say back home.
My host mom's sister was visible toward the back of the stage as she waved her hands at me.  She got my attention as well as the attention of my persuasive host mom.  I'm sure I turned bright red, not wanting to draw attention.  A few moments later I found myself next to the stage with my host mom repeating the word "policia." A few moments later,  the man of the hour sprinted down the stairs off the stage.
Suddenly, this celebrity was to my immediate left, surrounded by three other individuals who were instructors at the gym. As hundreds of girls sprang toward him, I quickly realized that I wasn't the police — at this moment in time, I was Rafael Cardozo's bodyguard.  The man could be Dwayne "The Rock" Johnson's stunt double.  I don't think he needed a bodyguard.
I rolled with it though, and I took my new job seriously and fended off the teens.  We headed toward the front door that now had a thick steel gate in front of it.  Rafael and company headed through the door, and my job was finished for now.
Within seconds, though, the front door to the gym was flooded with fans.  The opening to the door was about 8 feet high and as wide as my shoulders.  This would become my new designated spot for the next hour as I stood in front of the gated door and accepted 10 soles from anyone who was willing to pay for a photo with the handsome devil.  I went from being this stranger's bodyguard to his bouncer.
After about an hour of standing my post, I was offered a photo with Rafael.  I politely declined, seeing as I couldn't even pronounce his name correctly.  However, my ever more persuasive host mom talked me into it.  I walked alongside my host sister through a few dozen people to reach the front desk where the photos were being taken.  My host sister went to his right and I stood on his left.  She greeted him first with a quick "Hola" followed by few words.  Among those few words all I heard was "United States."
Suddenly, those dozens of people I just walked through turned and started taking massive numbers of photos.  Rafael turned to greet me, and said, "Hello," as we exchanged a handshake.  I turned toward the camera and continued to smile.  I thought I was done with the photo shoot when my host mom instructed me to take my jacket off.  I attempted to do so only to get my arms and hands stuck behind my back.Many more photos followed as I'm sure much more red came to my face.  I finally freed myself of my jacket and smiled once again as we all said "whiskey" in place of "cheese."  Like everything else, I rolled with it, and now I had concrete evidence of my latest adventure in Peru.