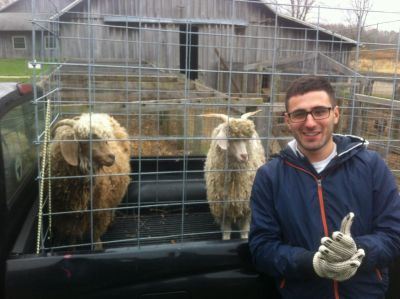 Good people come and go around here.  It is a sad, but true reality of the farming life and of academic calendars.
Our sadness to see our first WWOOFer, Rachel, leave in the first week of the month was moderated by the arrival, just two days later, of a new WWOOF volunteer from France.
Jean-Pierre, from the south of France, arrived by train on a Thursday night at the South Bend regional airport (having flown to Chicago).  This is his first visit to the United States, and it is an honor that he chose Merry Lea to be his first destination.  Jean-Pierre has come primarily to improve his English in advance of sitting an exam in his field of educational studies.  Although I speak no French, luckily Dale Hess speaks the language easily.  Many of us on staff are picking up French phrases, but we respect his wish to learn English.
On his first day at Merry Lea, the graduate students in the Masters of Arts in Environmental Education program butchered chickens alongside students of our Sustainability Leadership Semester.  Jean-Pierre had experienced butchering on his grandfather's farm as a child, but was fine with not being directly involved.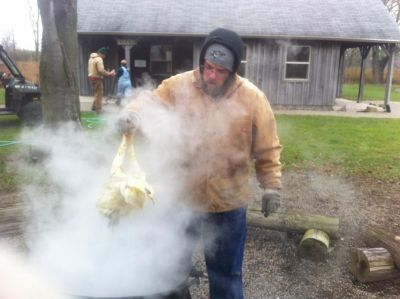 Nonetheless, he was exposed to an educational reality we offer every November – butchering day.  Staff members routinely bring friends, children, or spouses to help the work go smoothly.  It's a humbling tradition, and we all learn and reflect on what eating meat truly entails.
Though a slower month at Merry Lea Sustainable Farm, there is still much work to do.  November is a month to amend the soil in our beds, cover newly planted garlic, put away fencing and row cover from the gardens, organize garages, build new compost piles, service equipment, and experiment with season extension in the greenhouse.  A few lingering sales events generally take place at Goshen College, but most of the month is focused on preparing for winter, enjoying the cold mornings and the clear, crisp days, the growing darkness and occasional rain or snow.
We shall see what the rest of November brings, grateful for the goodness of the 2014 growing season, despite its cool weather and unexpected challenges.
– Jon Zirkle, Farm Manager & Agroecology Instructor