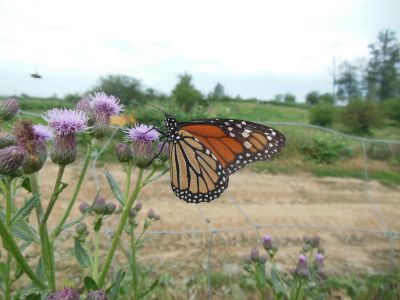 Once again, June in northeast Indiana is upon us. Here at Merry Lea Sustainable Farm, life is abundant. Transplanted tomatoes are acclimatizing to their new outdoor homes just in time for the annual wave of crabgrass, volunteer buckwheat, and Colorado potato beetle instars to emerge. The compost pile teems with life, bees buzz with pleasure at the fresh burst of meadow flowers, and a new flock of baby broiler chicks cheeps and chirps in the greenhouse. Branches hang heavy with the weight of ripening mulberries and juneberries, and garlic scapes twist and turn in the warm June air.
Summer is here.
A dedicated crew of students has just arrived at Merry Lea for the nine-week Agroecology Summer Intensive (ASI). With their arrival comes a flurry of activity just in time for the official beginning of summer. This year's crew hails from South Dakota and Haiti, two of whom attend Goshen College and another attends Dordt College in northwest Iowa. All of them have ambitions of farming in their future, making it all the more critical to provide them with relevant, practical, and intentional experiences while they are here. Hopefully these experiences and lessons in agroecology, vegetable crops, soils, and small farm management and marketing will be useful for their futures and inform the principles they employ in their agricultural endeavors.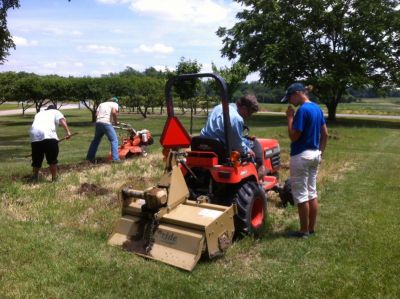 In the first week, students enjoyed many hands-on experiences. Activities included excavating soil cores of the diverse soil types scattered about the glacial landscapes of Merry Lea, butchering fourteen chickens (without a hint of complaining by the students), prepping the volunteer garden beds at the Farmstead using our Kubota-mounted and walk-behind tillers (see photo), visiting a number of surrounding farms, and planting hills of squash, pumpkin, and sorghum. Imagine what these students will do in nine weeks!
After a Sunday evening vespers gathering led by Tom Hartzell, Week Two began with creating a new compost pile and in the process discovering a clutch of snapping turtle eggs buried in a new pile of kitchen scraps and grass clippings! The timing was perfect, as a Merry Lea Master of Arts in Environmental Education alumna walked up with a group of children from Gary, Indiana right in time to witness our discovery. Our summer ASI students also got to learn how to make soil blocks for starting vegetables from seed, using natural pest control methods like dusting plants with diatomaceous earth, and explored soil macronutrients and soil testing in a lab. It is exciting to witness young farmers synthesizing the information and having ah-ha moments in the process.
The second half of the month will be as action-packed as the first half, and we look forward to the official beginning of summer on June 21.
– Jon Zirkle, Merry Lea Farm Manager