Alumni Feature – Rosanna Nafziger '06
Alumni Feature – Rosanna Nafziger '06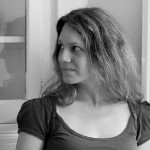 Goshen College graduate Rosanna Nafziger has teamed up with food historian Ken Albala to create a cookbook for those who love the art of a well-made meal. The Lost Art of Real Cooking is an inspiration to those who love good, old fashioned cooking—that which is not just delicious, but from scratch and without fancy equipment or overly detailed recipes.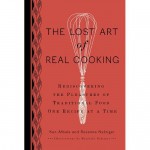 The book itself is small, compact, and designed to look like a cookbook from the turn of the century. The recipes are written in a casual, personal banter (each section is written by Albala and Nafziger individually), rather than in the contemporary, bare-bones list standard. All this creates an ambiance of getting away from the modern, fast-paced life and going back to when the process of cooking was as artful and lovely as the end result. It includes black and white drawings by Marjorie Nafziger (Rosanna's mother), which are as functional and instructional as they are beautiful. The emphasis is on recipes that are pantry staples, so you can use them more as a guideline to create your own variations. The chapters are dedicated to fermented vegetables, fresh vegetables, fruits and nuts, bread, meat/fish/poultry, dairy products (including Nafziger's cultured butter), and pies/pastries/confections.
The Lost Art of  Real Cooking is a celebration of the patience it takes to make your own delicious food without the gadgets that take away from the adventure of truly "experiencing" what you eat. It offers a wealth of recipes, history, and techniques that starts with the basics and evolves into dishes that are entirely your own. The forward of Nafziger's book notes that "this book is an effort to loosen up. . . . Dictating strict recipes really teaches aspiring cooks very little, apart from a slavish obedience to directions."
Originally from West Virginia, Nafziger grew up with a passion for food—the work that goes into producing both the raw product and the finished meal. After graduating as an English major from Goshen College, she moved to San Francisco where she is now a chef, nanny, and editor. While this is Nafziger's first mass-market book, she has had various writing experiences, including a Pinchpenny book of poetry titled Get Back Revenue Man (2005). Nafziger is also one of the editors of the first Red Cents (2005), the Goshen College English department's creative arts magazine. She also has a blog, Paprikahead.com.
–by Meg Kennell (GC 2011)