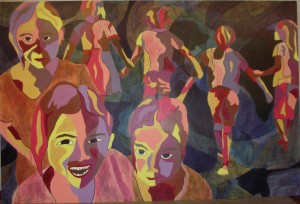 Liz Gunden, Senior Art Major
Randy Horst, Associate Professor of Art
The mural is a unique art form in that it presents many distinctive challenges.  The physical act of painting a mural as well as transferring a design onto a large scale are the more obvious challenges to painting a mural.  Additional complications come into play when one considers the implications and restrictions of painting something that will go in a public space.  Finding materials that are durable and appropriate for specific locations is yet another challenge.  This summer, I painted a mural on plywood panels that is now located in the Roman Gingerich Recreational Fitness Center.  The first half of the project included researching the history of murals and techniques, finding a location to paint, and coming up with a design.  The second half involved purchasing materials, preparing the painting surface, transferring my design, and painting.  The purpose of the Mural Painting Project was for me to fully explore the challenge of painting a mural, and this task has been fulfilled.