Goshen College breaks ground on historic Westlawn renovations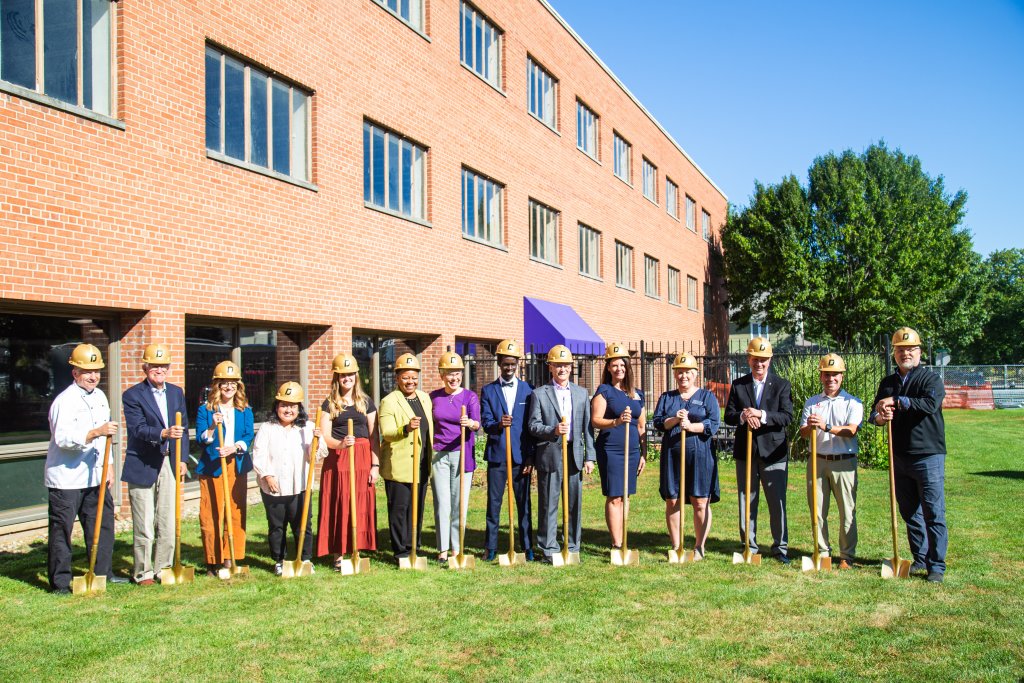 View more photos from the event here.
---
Goshen College ceremonially broke ground on Friday, September 1 for the historic Westlawn Hall renovation project.
At the event, Goshen College President Rebecca Stoltzfus said,
"The new Westlawn Hall is designed to support our mission. The academic programs that will be housed in this building – nursing and public health – are deeply connected to our local community. ​​We have been planning for the Center for Nursing and Public Health for four years in partner­ship with Ivy Tech Community College and numerous regional healthcare providers.  … We know that increasing nursing graduates will have a direct and positive impact for our community. Many of our nursing students are from Elkhart County, and even more of them stay in the county after graduation."
This renovation will allow Goshen College to grow its nursing and public health programs in state-of-the-art learning spaces, as well as provide enhanced dining services and indoor and outdoor gathering spaces that serve the entire campus. Renovations are expected to be completed by early 2025. Project details, plans and updates can be found at goshen.edu/westlawn.
The new nursing facilities will be triple the space that the department currently is in. With newly renovated facilities, increased space and local partnerships, the college could double the potential number of nursing graduates, while also supporting a growing public health major. Growing these programs is important as every community in the region, state and nation is projecting an increased need for nurses. The critical shortage of healthcare professionals in the region was exacerbated by the health crisis of COVID-19.
This $21 million project is possible thanks to generous ongoing support from many donors. In addition, Goshen College was awarded a $4 million grant from the U.S. Commerce Department's Economic Development Administration (EDA) and a $1 million grant from the Community Foundation of Elkhart County towards this project. The project architect was CREDO and the contractor is locally-based DJ Construction.
Westlawn was built in 1951 as a residential space, though the second and third floors have served as campus storage space for the past 25 years.
Project overview
First floor: Enhanced dining services and gathering spaces to serve the entire campus
Welcoming lobby with a stairwell and elevator, gender neutral individual bathrooms, lactation room
A whole new kitchen to provide enhanced dining experiences
Student lounge and collaboration spaces
Multi-purpose conference room and event space
Expanded outdoor patio space for dining and events
Second and third floor: creation of a state-of-the-art nursing and public health education center
Three inpatient simulation rooms
Six exam rooms for use in high-fidelity simulation training
A large 10-bed skills lab
Flexible classrooms
Student lounges
Study areas
Office spaces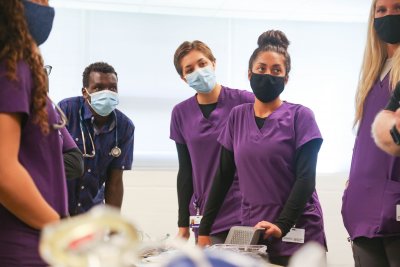 A top-ranked nursing program
Goshen College's top-ranked nursing program, which offered Indiana's first Bachelor of Science in Nursing degree in 1950, is accredited by the Commission on Collegiate Nursing Education and maintains standards of excellence in graduation rates, program satisfaction, licensure and certification pass rates and job placement rates.
"Goshen College has an excellent reputation for producing top-notch registered nurses that reflects the growing Latino population in our region," said Jewel Yoder, chair of the college's nursing department. "We've been teaching nursing majors long enough to know that healthcare is more than memorizing anatomy — it's about caring for the whole individual. We are ranked among Indiana's best nursing programs and known for our educational excellence and focus on cultural diversity. Employers say they prefer Goshen College nursing graduates because they provide compassionate, culturally sensitive and high-quality care for patients."
In addition to offering a traditional Bachelor of Science degree in Nursing (BSN), an RN-to-BSN program, and a Master of Science degree in Nursing (MSN) with a Family Nurse Practitioner (FNP) track, Goshen College also offers a Doctor of Nursing Practice (DNP) degree.