Goshen College awarded $4 million federal grant to renovate facilities for expanded nursing program
Goshen College has been awarded a $4 million grant from the U.S. Commerce Department's Economic Development Administration (EDA). The grant provides funding to renovate the college's historic Westlawn Hall in order to triple the size of the college's nursing program facilities and expand enrollment capacity.
With increased space, this investment will allow the college to quadruple the number of nursing students it educates to help fill the acute shortage of nursing professionals in Elkhart County, Indiana, and the surrounding region that was exacerbated by the coronavirus pandemic. The college will be partnering with Ivy Tech Community College to consolidate the breadth of nursing education offered on Goshen's campus, from certificates to degrees at the undergraduate and graduate levels. Regional healthcare providers, including Goshen Health, Beacon Health System, Greencroft Communities and Miller's Merry Manor, will directly benefit from an expanded pipeline of nurses.
"Goshen College is pleased and grateful for this EDA investment, which will support the expansion of our highly regarded nursing program and fill a critical shortage in the region's skilled nursing workforce," said President Rebecca Stoltzfus. "The COVID-19 pandemic demonstrated the importance of skilled nurses and health care professionals in an emergency. As a regional workforce training provider for the healthcare industry, we are well positioned to help make the region's workforce ready for future healthcare emergencies, which will increase the region's resiliency in the face of future health-related crises."
Westlawn Hall renovation plans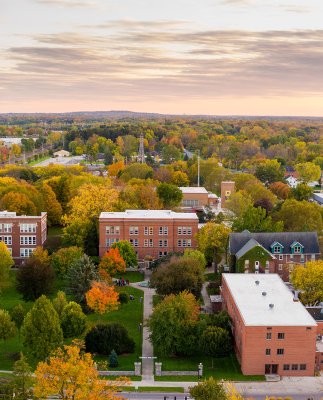 The 18,000 square feet on the second and third floor of Westlawn Hall will be renovated to create a state-of-the-art nursing education center. The first floor will remain the college's dining hall. Westlawn was built in 1951 as a residential space, though the second and third floors have served as campus storage space for the past 25 years.
The nursing facilities will feature three inpatient simulation rooms and six exam rooms for use in high-fidelity simulation training, a large 10-bed skills lab, a central teaching area, flexible classrooms, student lounges, study areas and office space.
The college is partnering with Mennonite Disaster Service (MDS) to demolish the existing interior of Westlawn's second and third floors. The college anticipates beginning renovations in 2023.
Goshen College's top-ranked nursing program
Goshen College's top-ranked nursing program, which is Indiana's oldest bachelor's degree in nursing program, is accredited by the Commission on Collegiate Nursing Education and maintains standards of excellence in graduation rates, program satisfaction, licensure and certification pass rates and job placement rates.
"Goshen College has an excellent reputation for producing top-notch registered nurses that reflects the growing Latino population in our region. We've been teaching nursing majors long enough to know that healthcare is more than memorizing anatomy — it's about caring for the whole individual," said Jewel Yoder, chair of the college's nursing department. "We are ranked among Indiana's best nursing programs and known for our educational excellence and focus on cultural diversity. Employers say they prefer Goshen College nursing graduates because they provide compassionate, culturally sensitive and high-quality care for patients."
In addition to offering a traditional Bachelor of Science degree in Nursing (BSN), an RN-to-BSN program, and a Master of Science degree in Nursing (MSN) with a Family Nurse Practitioner (FNP) track, Goshen College also offers a Doctor of Nursing Practice (DNP) degree.
Federal grant funding
The renovation is estimated to cost $5.7 million total, and the EDA investment will be matched with $1.7 million from the college.
This project is funded under EDA's $3 billion American Rescue Plan Economic Adjustment Assistance program, which makes $500 million in Economic Adjustment Assistance grants available to American communities to meet local needs.
"President Biden's American Rescue Plan offers direct relief to American communities as they work to build a better America for the future," said Secretary of Commerce Gina M. Raimondo. "This EDA investment will help tackle the critical nurse shortage in Indiana and across the country, and builds resiliency in the face of future health-related crises."
"The Economic Development Administration is pleased to support locally-driven strategies that are building a strong workforce in northern Indiana," said Assistant Secretary of Commerce for Economic Development Alejandra Y. Castillo. "Expanding the nursing program at Goshen College will help address important healthcare needs, and the college's commitment to recruiting students from underserved populations will provide new opportunities that will ensure economic benefits are shared equally throughout the region."