Work comes full circle for David Reimer '84, U.S. Ambassador
Reimer, a senior member of the U.S. Foreign Service, was sworn in as Ambassador to the Republic of Mauritius and the Republic of Seychelles on Dec. 13, 2017. He is a 2018 Goshen College Culture For Service Alumni Award-winner.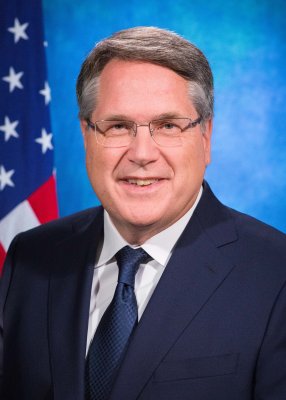 While studying abroad during his Study-Service Term (SST) in Belize, Goshen College alumnus David Reimer interviewed a United States economic officer at the U.S. Embassy in Belize City for a final paper he was writing about the economic and commercial relations between the U.S. and Belize.
"I remember I walked into his office and sat across the desk from him and talked to him for about an hour or so, and thought 'wow, what a cool job, what a cool office,'" Reimer remembered. "I thought he had the greatest job in the world."
After graduating from Goshen College in 1984, and earning a Master of Public and International Affairs degree from the University of Pittsburgh, Reimer spent five years working for the U.S. Department of Agriculture before joining the U.S. Foreign Service. Because of his SST experience, he was sent to Belize for his first job and found himself in a familiar spot.
"I ended up sitting in that office, in his chair, but on the other side of that desk," Reimer said.
Reimer is now a career member of the Senior Foreign Service and, on Dec. 13, was sworn in as U.S. Ambassador to the Republic of Mauritius and the Republic of Seychelles, two island nations in the Indian Ocean off the southeast coast of Africa.
His path to becoming a U.S. Ambassador has taken him all over the world, filling various foreign service posts in Belize, East Africa, Germany, Haiti, Iraq, Italy and Switzerland. He has received eight top State Department performance awards, and is known for his extensive knowledge of Africa and his outstanding leadership and communication skills.
Before college, Reimer spent several years living in Kenya and Ethiopia with his parents, which he credits, along with studying history and economics at Goshen College and his SST experience, for his success as a foreign officer.
"SST certainly played a part… I think my history degree was particularly useful too," he said. "It taught me to see the bigger picture and put things in perspective, it also taught me to be able to write."
According to Reimer, three professors, Theron Schlabach (professor emeritus of history, 1965-1995), Jim Hertzler (professor emeritus of history, 1966-1999) and Del Good (professor emeritus of economics, 1967-2006), left a particularly lasting impact on him.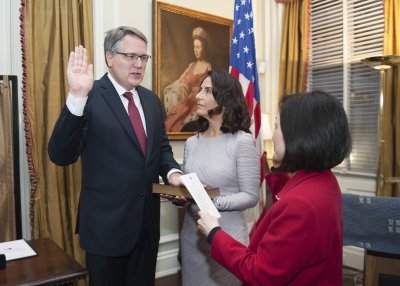 "When I joined the State Department, they made me an economic officer, so I called on what I learned from [my professors] quite a bit."
Reimer also noted that his college roommate, Graham Shantz, became a member of the Canadian Foreign Service, and also served as an Ambassador at one point.
"It's an amazing coincidence. We'd never once, the whole time at Goshen College, ever talked about joining (foreign services)," he said. "That was not in our plans."
Having spent about two-thirds of his career overseas, Reimer has served as the deputy chief of mission at the U.S. Embassy in Nouakchott, Mauritania (2012-2014); was senior refugee coordinator for the U.S. Embassy Baghdad, Iraq (2011-2012); Deputy Director of the Africa Bureau of East African Affairs, (2009-2011); Refugee and Migration Officer, U.S. Mission Geneva, Switzerland (2006-2009); Economic Officer, U.S. Embassy Port-au-Prince, Haiti (2004-2006) and Economic Officer, U.S. Consulate Milan, Italy (2000-2003). He spent time at the U.S. Department of State's Economic Bureau (1996-2000), did economic work for the U.S. Embassy in Bonn, Germany and the U.S. Embassy in Belize City, Belize.
Reimer is married to Simonetta Romagnolo and is a member of Oak Grove Mennonite Church in Smithville, Ohio. He speaks French, Italian and German.
"It's a fantastic career," he said. "It's been a wonderful career for me, and I'd really like to see more Goshen College students here in the State Department."