Dr. James E. Brenneman, Goshen College president, announces resignation for June 2017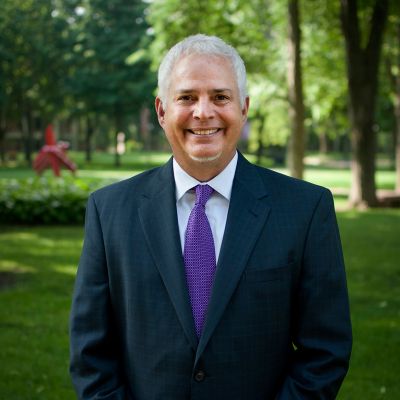 Today, Dr. James E. Brenneman announced that he will step down from his role as the 16th president of Goshen College (GC) at the end of the 2016-17 academic year, concluding 11 1/2 years of service to the college.
---
Updates and information about the search process are available online at: goshen.edu/presidential-search.
---
Brenneman said he believes it's the right time for him to step aside to allow new leadership to advance Goshen College to the next level of success, building on what has been accomplished. "I truly believe, by God's grace and blessing, the best days of Goshen College are still to come," he said.
Brenneman informed GC faculty and staff of this news during the all-employee retreat as they prepared to open the new academic year.
"I am eternally grateful to have served alongside such a dedicated and diverse faculty, staff, administrators, committed board members, loyal alumni, generous donors, and supportive church and community leaders — all in pursuit of providing the best Anabaptist-Christian liberal arts education for every student who comes to Goshen College," Brenneman said. "Of course, no words adequately describe the abiding purpose, heartfelt emotions and immense blessing I have received every single day in serving such wonderfully creative, smart and faith-inspiring students."
Changes at the college over Brenneman's tenure have reflected his vision for the institution to become a "World House of Learning" that would reflect the intercultural diversity of the worldwide Anabaptist body of believers and the intercultural makeup of the communities the college serves, locally and globally.
Brenneman launched the Center for Intercultural & International Education in 2006 and three campus institutes in 2011: the Institute for the Study of Global Anabaptism, the Institute for Ecological Regeneration and the Institute for Intercultural Leadership. The total percent of international and intercultural students at GC has since grown from 18 percent (2006-07) to 33 percent (2015-16), and Goshen College's Latino student body has increased from 5 percent to 16 percent during the same period of time.
Under Brenneman's direction, GC's general education program — the Goshen Core — was redesigned in 2012 to focus on intercultural, international, interdisciplinary and integrated learning. Online classes and e-portfolios made their debut on campus, and the college added its first master's degree programs: M.S. in Nursing (2007), M.A. in Environmental Education (2008), M.A. in Intercultural Leadership (2013) and the Collaborative MBA (2014). Additionally, under Brenneman's leadership, despite the global financial crisis of 2007-09, contributions of nearly $70 million above tuition were raised in support of Goshen's program, most notably providing increased scholarships to make college more affordable and accessible.
"We are more interculturally diverse in our makeup, more interculturally competent in our teaching practices and more confident in realizing our vision than ever before in the history of Goshen College," Brenneman reflected. "There is no turning back, since this vision has been woven into the very fabric of Goshen College since our first president, Noah Byers, coined the motto, 'Culture for Service.'"
A centerpiece of Brenneman's vision included Goshen College's full embrace as an anchor institution in the city, state and region.
Goshen Mayor Jeremy Stutsman said, "Thanks to President Brenneman's vision and leadership, Goshen College is recognized and appreciated for its significant role in bridging differences in our community and in helping our region become a truly vibrant, inclusive and inviting place to live, work and enjoy life."
The mayor's feelings are reciprocated by Brenneman. "While I've proclaimed, 'The world needs Goshen College,' and still believe this, I also believe now more than ever that Goshen College needs the community in which we live," he said. "We need our region, our nation and the world so that we can more truly reflect the love of Christ for the whole of God's good creation."
Brenneman has also led the college to national prominence for its innovative campus-wide initiatives and programs in environmental and ecological sustainability. In 2007, he became the second Indiana college president to sign the American College & University Presidents' Climate Commitment to work toward a carbon-neutral campus. He was also invited by the White House to participate in the American Campuses Act on Climate roundtable in November 2015.
College and Mennonite Education Agency (MEA) leaders expressed gratitude to Brenneman for his service as president.
"Throughout the triumphs and challenges that have come with the job, Jim's deep love for and commitment to Goshen College and its mission have never wavered," said Dr. Conrad Clemens, chair of the GC Board of Directors and a 1985 alumnus from Tucson, Arizona. "Jim has fulfilled his role as steward of the President's Office with both humility and faithfulness. And we wish him well as he takes a well-deserved break to focus on writing projects and his next steps."
"On behalf of Mennonite Church USA, I'm grateful to Dr. Brenneman for his strong commitment to the mission and values of the Mennonite Church and to Goshen College, especially in the increasingly challenging current higher education environment. This has been a valuable gift," said Dr. Judy Miller, chair of the MEA board and a 1962 GC alumna from Othello, Washington. "I've especially appreciated his example of servant leadership and willingness to take risks."
According to Clemens, the GC Board of Directors, in partnership with MEA, is assembling a search committee to lead the process of finding Brenneman's successor.
"I'm especially pleased to announce that GC Board member Faith Penner of Harper, Kansas, has agreed to serve as chair of the search committee," Clemens said. "Faith has the wisdom, leadership skills and commitment to Goshen College needed for a successful search process."
Carlos Romero, executive director of MEA, will serve as an ex-officio member of the committee.
Brenneman earned a Bachelor of Arts from Goshen College in 1977. He attended Anabaptist Mennonite Biblical Seminary in Elkhart, Indiana, and completed a Master of Divinity at Fuller Theological Seminary in Pasadena, California. He continued his studies at Claremont (California) Graduate University, earning a Master of Arts in religious studies and a Ph.D. in Hebrew Bible/Old Testament studies.
An ordained minister in Mennonite Church USA, Brenneman was the founding lead pastor of Pasadena Mennonite Church, where he served for 20 years. He also served on the faculty at Episcopal Theological School at Claremont in Old Testament scholarship for 15 years.
Brenneman and his wife, Dr. Terri J. Plank Brenneman, a clinical psychologist and also a 1977 Goshen College alumnus, are the parents of a son, Quinn, who also attended GC.
---
More Coverage