Carrie Newcomer encourages graduates to 'be true, be kind and pay attention' with words and song at 118th commencement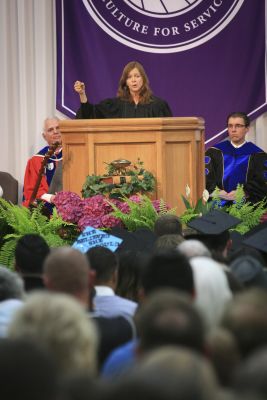 ---
RELATED LINKS:
---
Members of the Goshen College Class of 2016 received undergraduate and graduate degrees after being encouraged by speaker and alumna Carrie Newcomer '80, an Indiana-based singer-songwriter, to "be true, be kind and pay attention" during the college's 118th commencement on Sunday, April 24.
The Class of 2016 consisted of 205 graduates who were awarded the following degrees: 127 Bachelor of Arts, 35 Bachelor of Science in Nursing, 18 Bachelor of Science, 18 Master of Science as family nurse practitioners, 4 Master of Arts in Intercultural Leadership, 2 Master of Arts in Environmental Education, and, for the first year, 2 Master of Business Administration.
The graduates were led in a procession by current and retired faculty into the packed Roman Gingerich Recreation-Fitness Center's Gunden Gymnasium for commencement.
As President James E. Brenneman introduced Newcomer, he presented her with the college's first honorary degree: a Bachelor of Arts in music for social change. Newcomer attended Goshen College for two and half years, including going to Costa Rica as part of the college's Study-Service Term, but she didn't graduate from the college.
In her commencement address "Three Things" – which included singing "I Believe" and "The Gathering of Spirits" – Newcomer said she wanted to focus on "things that have become important practices and practical guides" for her: "Be true. Be kind. And pay attention."
In the first practice that has been important for her, to "be true," Newcomer noted that she didn't go to college for music, but later realized that making music was what Parker Palmer calls "the thing I could not, not do." She added, "I'm still checking in with my truest heart, and listening closely to what it has to say. You also have a true heart and a true guide."
Related to the second practice, Newcomer said, "In your life after Goshen College, you will decide not just what you want to 'do' in the world, but who you want to 'be.' … The practice of kindness is transformative, and the spirit we choose to bring to our lives and work matters."
For example, she said: "Kindness brings soup when you're sick, it hangs out in the kitchen washing dishes when no one asked it to, it opens the door when your hands are full and stops everything to listen to your story."
Finally, she urged graduates, pay attention. "You can't write a story if you've missed what happened because you were checking your texts. We live in a world of distraction and it's easy, so easy, to not be present in our own lives. You have to choose to be present and to notice things," Newcomer said. "But be aware that if you are paying attention you'll see things and encounter good questions."
With 15 solo CDs – the most recent being her 2014 release, "A Permeable Life," accompanied by her book of the same title – Newcomer has been described as a "prairie mystic" by the Boston Globe, and Rolling Stone says "Rapturously tuneful, Newcomer's material asks all the right questions and refuses to settle for easy answers." Her involvement in social justice, charitable activities and collaborations with other authors and artists significantly influences her music, which is rooted in Quaker theology and cuts across secular and spiritual boundaries. Raised in Elkhart, Indiana, Newcomer currently lives in Southern Indiana with her husband and their two dogs.
During the ceremony, the college also honored six retiring teaching and administrative faculty: Jim Histand, vice president for finance; Becky Horst, registrar; Linda Kaminskis, athletic trainer, Vicky Kirkton, associate professor of nursing and director of the RN to BSN program at Glen Oaks; Lois Martin, director of the Academic Resource and Writing Center; and Vickie Miller, human resources assistant director.
After the benediction, the faculty lined the main corridor of the Recreation-Fitness Center and applauded the departing seniors. The "applause tunnel" tradition also takes place at the beginning of each academic year to welcome students back to campus.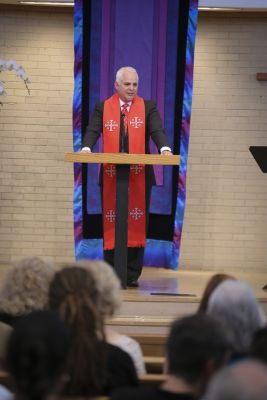 At the baccalaureate worship service in the morning before commencement, President Brenneman delivered a sermon titled "Cultured for Loving Service," based on Philippians 1:9-11. "In his short three-sentence prayer, St. Paul offers two clues to help in determining what is best for you as you anticipate your futures," he said. "The first is a prayer for 'knowledge and full insight.' The second is 'that your love may overflow.'"
Brenneman noted, "We are the most educated people in the known universe, and yet, sadly we are becoming more polarized than ever. … Whatever else is gained from being educated, enlightened graduates, the most important outcome of your time at GC is that  such culture-making knowledge must lead to loving service, to acts of engagement that unite the world."
This year 179 graduates signed the Graduation Pledge of Social and Environmental Responsibility, a national program at more than 100 colleges and universities. By signing the pledge, the graduates promised to "explore and take into account the social and environmental consequences of any job I consider and will try to improve these aspects of any organizations for which I work."
Other events during the busy weekend at Goshen College included a senior program, which showcased the talent of the Class of 2016, a senior art exhibit, academic department receptions for graduates and their families, a nurse's pinning ceremony and an evening reception hosted by President Brenneman and his wife, Dr. Terri J. Plank Brenneman.
CLASS OF 2016 HIGHLIGHTS
Total number of graduates: 244

18 Master of Science in Nursing degree recipients
5 Master of Arts degree recipients
2 Master of Business Administration
127 Bachelor of Arts degree recipients
35 Bachelor of Science in Nursing degree recipients
18 Bachelor of Science degree recipients
Total number of graduates: 205
Number of students graduating with honors — grade point averages of 3.6 to a perfect 4.0 (based on grades as of December 2015): 63
Number of countries represented in this year's graduating class (other than U.S.): 10
Number of states represented in this year's graduating class: 21
Number of graduates from Indiana: 105
Number of graduates who signed the Graduation Pledge of Social and Environmental Responsibility: 179