As graduation nears, Chau Bui finds her calling behind the lens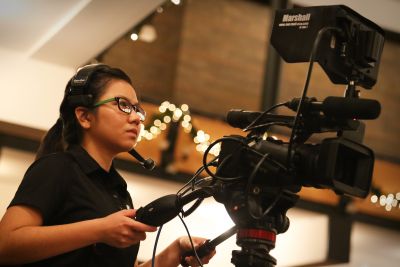 At just over five feet tall, Chau Bui jokes that the Bible verse that says 'I have run the race, I have kept the faith' seems to have been written just for her.
It's how Bui, a broadcasting major from Ho Chi Minh City, Vietnam, who graduates this week, often feels when she's lugging around heavy camera equipment for FiveCore Media, trying to keep up with the other students in the film crew.
"When we were filming The Journeys of Paul documentary in Greece, everybody just kept going and going, and I had to catch up with them a lot," said Bui, who doesn't let her small stature hinder her work. "Every time we went on a Metro, everyone was like '"Where's Chau?'"
At one point during that 2012 May term trip, while carrying a camera and tripod and running behind the group, she arrived just as the Metro doors were closing. Another student reached out and pulled her in.
"I just remember closing my eyes and the next thing I knew I was on the train," Bui said.
It wasn't the first time that Bui has had to take a leap of faith. When she was in the 11th grade, she entered a student exchange program that brought her 9,000 miles away from home to LaGrange, Indiana.
"I always wanted to study abroad and I didn't know what to expect," she said.
It took Bui some time to settle into her new life, living with a former Amish family, attending a Plain Mennonite church and going to an American high school. Looking back, she sees that year as a unique opportunity that she never expected.
"It was a shock," she said. "But I'm just happy that I got to know a very specific sub-culture that not a lot of people get to experience."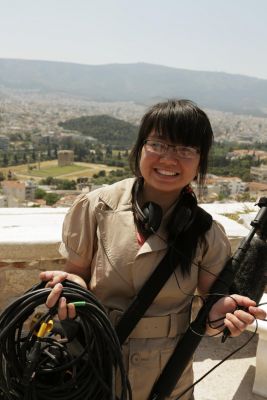 A love for stories
When she was in high school, Bui realized that she wanted to study journalism. On family vacations around Southeast Asia, her family often stuck to tour groups, but Bui liked to stray from the beaten path.
"I always liked to get off the bus and get to know the local people," she said. "When I would talk to local people, I always thought that it would be so cool if that could be my job, to record what they said and remember them. So I was drawn to journalism."
After a year at Westview High School in LaGrange, Bui enrolled at Goshen College to pursue her dream of becoming a journalist. She was nervous at first, not sure if she would fit in at a Mennonite school.
She was pleasantly surprised when college began.
"During a barbeque the first weekend they played a Lady Gaga song, and I saw people dancing, and I thought 'This is not the Goshen that I imagined,'" she said. "Then I got to know more people and I learned more about how diverse the campus culture is."
Despite not having much experience, it didn't take Bui long to find her spot behind the camera.
"When I came here I felt like I needed to learn a lot because I didn't know much about broadcasting or cameras," Bui said. "But the professors invited me to join different co-curriculars. It was an opportunity to learn a lot."
As a member of the FiveCore Media team, Bui has had the chance to work on documentaries, commercials, music productions and more. She has even won awards from the Broadcast Education Association and the Indiana Association of School Broadcasting.
"The thing I like about Goshen is you can get involved in your first year," Bui said. "It's not so big of a school that you can't be involved in what you want. You have more opportunities."
As her graduation approaches and she thinks about what she'll do next, she keeps coming back to the stories that she's heard from behind the lens of a camera.
"I like doing stories about people, and women specifically," she said. "Stories that we often don't hear."