FiveCore Media racks up awards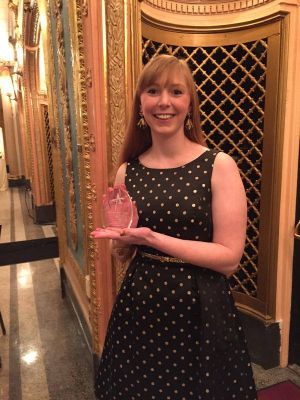 The Goshen College Communication Department and FiveCore Media continue to be recognized for high-quality video work, both regionally and nationally, with awards from both educational and professional associations.
"We're pushing our students to not just see themselves as students, but as professionals, rather than waiting until they graduate to enter the profession," said Kyle Hufford, assistant professor of communication and FiveCore Media general manager. "These are opportunities that not many students get."
Broadcast Education Association
The Broadcast Education Association (BEA) awarded two Goshen College students second place in the instructional/educational video category at their annual Media Arts Festival. Chau Bui, a senior from Ho Chi Minh City, Vietnam, and Jake Smucker, a junior from Newton, Kansas, won the award with their four-part series called "Goshen's Urban Forest," which was created for the Goshen Parks Department this year.
The BEA Media Arts Festival has more than 1,300 entries and is open to students from all colleges and universities in the nation. Prizes will be awarded during BEA's annual convention on April 12-15, 2015 in Las Vegas, Nevada.
Telly Awards
FiveCore Media added two more Telly Awards to their collection this spring.
Abby Deaton, a senior communication major from Indianapolis, won a bronze Telly Award with a series of community videos created for The Elkhart Truth, including features about a local art house theater, 4-H participants and a hot dog stand.
FiveCore Media also earned a bronze Telly Award, which is the second highest honor behind a silver Telly, for their Good of Goshen video campaign, which tells stories about people who reflect Goshen's generous character.
"Being able to put awards like these on a professional resume and portfolio gives our students an edge over their peers when they apply for jobs," Hufford said.
The Telly Awards is a national competition designed to honor commercials, video, film productions and work created for the web from professional advertising companies. The Telly Awards receive approximately 13,000 submissions nationwide each year.
Winning a Telly Award is an incredibly high distinction for the Goshen College Communication Department and FiveCore Media, as the students involved in producing the documentary are recognized for their excellence among industry professionals.
ADDY Awards
FiveCore Media received a bronze ADDY Award for Digital Advertising Campaign from the American Advertising Federation (AAF) of Michiana for their work with the Good of Goshen campaign.
The award was presented at the annual AAF Michiana chapter awards ceremony on Thursday, Feb. 26 at the Morris Performing Arts Center in South Bend.
The ADDY Award is the advertising industry's largest and most representative competition, attracting more than 40,000 entries every year in local AAF Club competitions. The mission of the competition is to recognize and reward the creative spirit of excellence in the art of advertising.
Indiana Television School of the Year
For the fourth time in six years, Goshen College was named Indiana Television School of the Year in the 2015 Indiana Association of School Broadcasting's (IASB) college broadcasting competition. Goshen College was also a runner up for Indiana Radio School of the Year, narrowly missing the title after winning it the past three years in a row.
"We are excited and honored to be recognized once again with this award, said Seth Conley, assistant professor of communication. "Our students work incredibly hard and we set high expectations for them."
Thirteen different Goshen College students earned individual awards in 17 categories, including seven first-place honors.
Goshen College competes among Indiana colleges and universities with much larger broadcasting programs, including Ball State University, Butler University, University of Indianapolis, Indiana Wesleyan University and Taylor University.