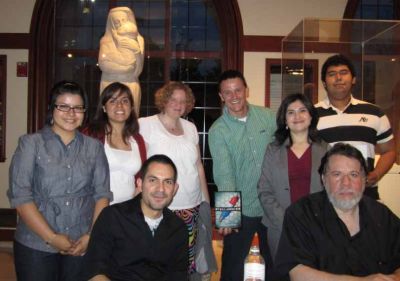 The Latino SST group already began their journey in learning and being immersed in the local Latino culture of Northern Indiana. They began this week by learning about the Latino culture and intercultural communication by talking to guest speakers from the local Latino community.
One of the highlights of this week was attending a Latino poetry reading at the University of Notre Dame in which two well-known contemporary Latino poets presented their work. Martin Espada a poet of Puerto Rican descent, who grew up in Brooklyn, New York, writes poetry about "the voiceless of society" and Latino political issues and struggles. Paul Martinez Pompa, a third generation Mexican American, who grew up in the inner-city of Chicago, also writes poetry about his experience growing up as a Latino in the U.S. and about "los olvidados" or the forgotten ones in society.
The Latino SST group enjoyed this event very much and gained appreciation for the literature/poetry aspect of the Latino culture. They also gained awareness of some of the many struggles that both U.S. born and immigrant Latinos face in U.S. society and how poetry is used by many Latino poets as an instrument for social change. After the poetry reading, the Latino SST group also had the opportunity to get their books signed and to talk to Martin Espada and Paul Martinez Pompa.
Students are also preparing for next week when they will meet their host families for the first time. While students will not live with Latino families, they will connect with their families once per week throughout the Latino SST term.