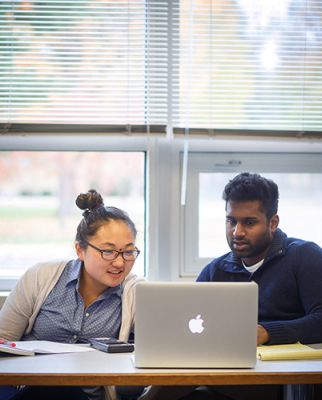 Goshen College is home to a cutting edge technology environment that supports and enhances teaching, learning, research and publishing. We are committed to service-oriented computing and continuous improvement of our technology infrastructure.
Internet
100% wifi coverage on campus and fiber-optics in every major building. It's not uncommon to hit download speeds of 500+ Mbps.
Computer labs
Most labs are virtualized, meaning you can log in and access premium software (e.g. Adobe Creative Suite) from any device & location. There are also two 27″ iMac labs for graphic & video editing.
Free tech support
A friendly and helpful Help Desk supports students, faculty & staff with technical issues.
iPads
Incoming undergraduate students are all given iPads, which provide a stable platform for educational innovation and distributing apps to students. Participation in the iPad program for graduate and non-traditional students is dependent on the program and curriculum requirements.
Innovation & iteration
Our small size allows us to update and adapt our use of technology much faster than larger institutions plagued by inertia and internal politics. New features are released in months, not years.
Sustainable computing
GC has cut its electricity use by 40% over the past decade, while expanding facilities. We invest in Linux server architecture and Mac Mini desktops.
Open source
Much of our technology stack is open source. We hire students and encourage them to collaborate with faculty & staff, who use and contribute to open source projects.