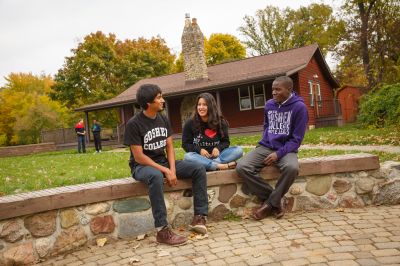 The annual class gift drive is an opportunity for graduating students to participate in a class project and leave a legacy at Goshen College. The 2018 Class Gift Committee members were Deeksha Pagar, Nat Dick and and Ryan Hartig.
Goshen College graduates have a tradition of giving to the college, beginning with the Class of 1915. For more than 100 years, college landmarks such as the stone bench next to the Adelphian Fountain, as well as the cabin on the Elkhart River are the result of the graduating class' energy and financial support. The 2018 class raised money for the Goshen College Fund and the Student Aid Fund, both of which support students directly and the college's ability to remain a nationally recognized, affordable college. Some donors also designated all or a portion of their gift to their favorite official GC club or organization.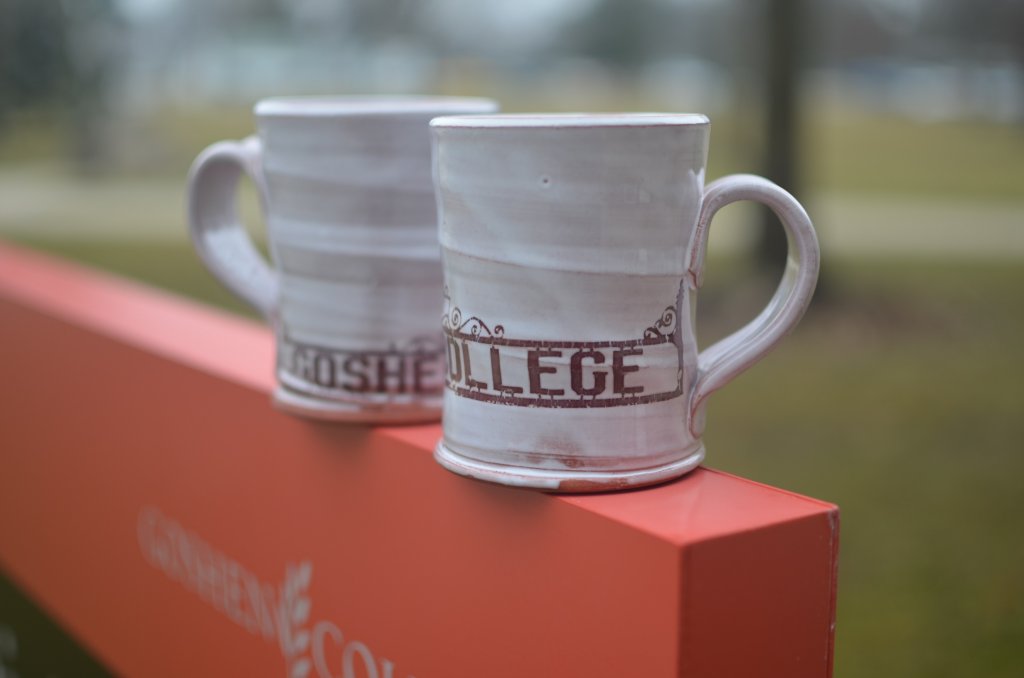 In 2018, for a minimum donation of $40, class-members received one of these beautiful Goshen College mugs.  These mugs, featuring the iconic GC Gate, are hand-crafted by Justin Rothshank, a local artist and GC alumnus.
How does the gift drive work?
Any size gift is appreciated! As a graduate, there are three ways to donate: designate a portion of your small group housing deposit, with cash or check, or make an online gift. If you would like to donate cash or check you can bring them to AD01 (Advancement). If you would like to designate part of your small group housing deposit (up to $200) or donate with a credit card, you can log into GC Online and select the Senior Class Gift link in the Personal Services section or click the Donate button below. Not a member of the Senior Class but you'd still like to donate? We've got you covered. You can use the donate button below and then simply designate your donation to the "2018 Class Gift". Your donation is much appreciated and will be given to the GC fund, unless otherwise noted.
Gifts are still welcome but at the end of the school year the member of the Class of 2018  donated $1,227, with nearly 23 percent of the class participating. Thanks to everyone who participated in making this drive successful.
Why would a financially-strapped college student choose to donate?
It's time to think about the larger picture. This is your chance to start investing into the education of future Goshen College students. Your gift, no matter the size, helps build a legacy for your class that will benefit those to follow. The hope is that this is the first step in a lifetime of giving back. While you were a student you have been supported by alumni and friends of Goshen College. Now it is your turn to join the tradition of good stewardship. We hope all graduates will participate, no matter the amount, to ensure the success of the program and leave a legacy for future students. You can make a gift of any amount that is comfortable for you by cash, check, or credit card. If you have a small group housing deposit – you may apply a portion of it towards your gift.
Thanks for your support!