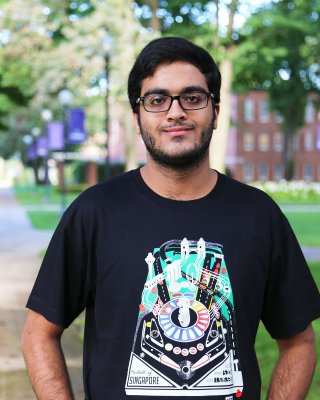 Viren Wadhwa, a 2016 accounting graduate from Singapore, crossed an ocean in order to run cross-country at Goshen College. He hopes to become a financial manager.
What do you like most about Goshen and why?
I like the diversity at Goshen College. In many ways, diversity helps bring people closer to one another. It is very nice to be able to interact with other international students from various countries.
Why did you choose to come to Goshen College?
I chose to come to Goshen College mainly because of the small size and the really good deal I received from financial aid.
How has Goshen College influenced your faith or worldview?
After choosing to come to a Christian college, I have been able to instill a few Christian values within myself, even though I am Hindu. I go to Waterford Mennonite Church (WMC) every Sunday, and I proudly call WMC my home church.
What advice would you give to a prospective student?
I would advise students to make a lot of friends, and also manage their time well between academics and other co-curricular activities, especially if they are part of an athletic team.
What was an influential experience for you on SST?
For me, the most influential experience has been talking to people of other races and getting to know people from different backgrounds. Learning to understand their cultures has been especially valuable to me.