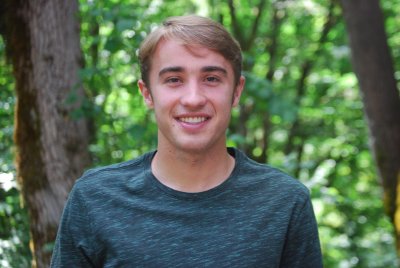 Spencer Aeschliman '19 is a physics major from Salem, Oregon. Outside of his coursework, Spencer plays on the men's soccer team and sings with the men's chorus.   
What do you like most about Goshen and why?
I love the fantastic student body that has created a community that encourages people to build relationships, have conversations and pursue their passions. The liberal arts experience at Goshen would not be complete without the people here. I feel like I have already made long-lasting friendships just after my first year.
Why did you choose Goshen?
It would be hard to accurately capture every single reason. The atmosphere here is great, and I have the opportunity to study a wide variety of subjects. The students and the professors make this possible. I also get to play the sport I love, soccer, and I am passionate about the same issues that a lot of other students are.
How has your GC experience influenced your faith and worldview?
I feel much more aware of issues, not just around the world, but in this community and others. Not only am I more aware of them, I now feel like my faith calls me to act on them and seek paths to resolution.
What do you hope to do with your degree?
At this point, I'm not sure. I would like to go to graduate school for physics or some type of engineering, but it's possible that different doors will open up to other interests during the rest of my time here.
What is your favorite experience at GC so far?
I would say it's a tie between the soccer team's overtime win vs. Spring Arbor and the Earthtones choir concert. Both were unique and fulfilling experiences that I'm not sure I will ever forget.
What surprised you about Goshen College?
How much there is to do. I was worried that I would get bored from time to time, being at such a small place, but I have been blown away by all the things to do on and off campus that keep me very busy.