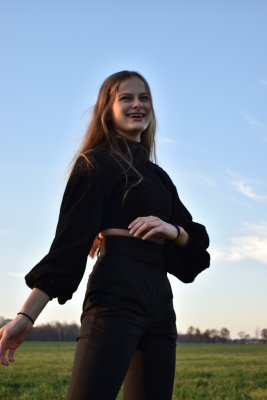 Elkhart, Indiana
Majors: Social Work, Music
Why did you choose Goshen?
One of the main reasons I chose Goshen college was for its academic programs. It was hard for me to ignore that GC houses Indiana's top ranked social work program and incredible music facilities like Sauder Concert Hall.
Coming from a Mennonite background myself, Goshen was a good fit because it aligned with my values. Another factor was my GC visit. Luckily, I visited campus on an "Explore Goshen" day the spring of my junior year, before Covid had entered the picture. I felt so welcomed by the faculty and admissions, and the campus truly felt like home. Actually touring in person, and meeting people there played a huge role in my decision. Goshen was one of the few schools I managed to visit in person due to the pandemic, and so I felt secure in choosing it due to actually getting a feel for the campus.
Why did you choose your majors?
In high school, I toyed around with several different major options including creative writing, music, music education, social work, and sustainability. Since I wasn't exactly sure what I wanted to do in the future, I chose social work because this degree prepares you for a wide variety of opportunities with the overall goal of helping people.
Additionally, social work is rooted in social justice, which is something I care about. I chose to major in music as well because I have long been passionate about it and want to continue to study it and improve my performance skill. I see music intersecting well with social work, especially in the counseling realm.
What career are you interested in pursuing?
While I'm not entirely sure what I plan to do with my degrees, I would like to combine my majors in some fashion so that I can offer counseling with a specialty in music. If patients request it, I could suggest musical practices for them, or I could play something on the piano, ukulele, etc. during a therapy session.
What is a valuable experience that you have had at Goshen?
A highlight was working at Java Junction on campus. I loved getting to learn the barista craft, because it was something fun and different from my previous work experience.
This was an ideal freshman job because it allowed me to meet people while working – both baristas/managers and students who studied in Java regularly. It's the perfect job for an extrovert!