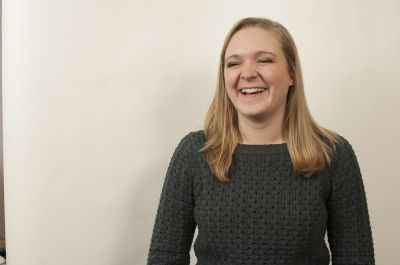 Sam Heberling, an American Sign Language Interpreting graduate from Mishawaka, Indiana, was active on campus as a leader in the ASL club and on the women's volleyball team.
Why did you choose Goshen College?
I originally chose Goshen College because it was the only school that I was looking at that had both volleyball and ASL as a major.
What has kept you at Goshen College?
The academics. I would not trade the ASL department here for anything. The experience we get at GC is amazing: an internship, Study-Service Term and so many practice opportunities! The professors in the department are so educated in ASL that it makes them the perfect language models for us to learn from.
What do you hope to do with your degree?
With my degree I hope to become a nationally certified interpreter. First I would like to do what is referred to as freelance interpreting, so that I can get a feel for many different situations, events, appointments, meetings and much more. Once I spend enough time doing that, I would like to try more difficult and specialized topics like legal, theater and educational. My dream would be to one day interpret on a cruise ship. I am most excited about being able to bring two cultures together in order to connect with each other through language.