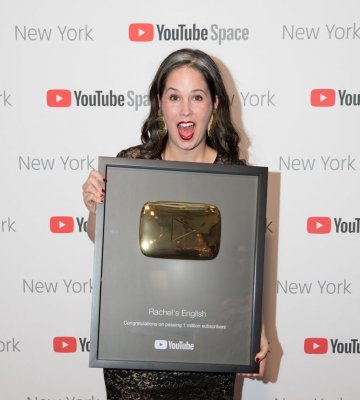 Rachel Smith studied computer science, math and music, and is combining those skills on her Youtube channel, Rachel's English, which provides over 800 free videos with more than 167 million views to help non-native speakers improve their spoken English and listening comprehension.
While living in Germany after college, Rachel Smith '01 discovered a knack for helping non-English speakers pronounce English words. Having studied computer science, math and music, and with experience as an ESL teacher and opera singer, she decided to put her skills to work and make an English pronunciation video to post on a new website called YouTube.
"I really didn't have a big plan going in. I started posting some basic videos and it grew from there," she told Entrepreneur magazine. "The idea and the concept very much grew over time."
A decade later, Smith's YouTube channel, Rachel's English, has more than 3.6 million subscribers, helping people from all over the world learn English. Her nearly 800 videos have been viewed more than 167 million times. Sometimes her husband, David Roth '98, or her college friends make appearances in the videos.
In addition to her videos, Smith, who lives in Philadelphia, also runs an online subscription-only academy for intermediate to advanced English learners who want to boost their conversational skills.
After reaching 1 million subscribers, YouTube threw her a party and awarded her a Gold Play Button at their recording studios in Manhattan in December, giving her a chance to celebrate with her friends, family and fans from around the world.
Several of Rachel Smith's videos include clips from the show "Friends," a part of a common trend for people learning English, according to the New York Times. While she hasn't always posted videos using "Friends" clips, she told the New York Times she "definitely never sensed that the time for it has passed."
According to the New York Times, after the United States, Rachel's English is most watched in Vietnam, India, Brazil, Japan, the Philippines and South Korea.
To learn more about Rachel Smith, check out her website rachelsenglish.com