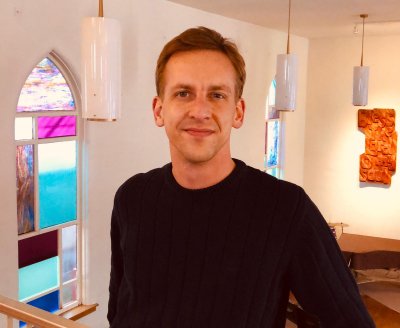 Elkhart, Indiana
MAJORS: communication, interdisciplinary studies
Co-pastor, Prairie Street Mennonite Church
How did your experience at Goshen College inform your vocational calling and/or approach to ministry?
I encountered Anabaptism for the first time at Goshen College. You can read about it in books, but you really don't know Anabaptism until you feel it. I felt it at Goshen. It's alive in the community — knowing, being and doing faith all at once.
What gives you the most satisfaction in your work?
God's kingdom is breaking into the world in surprising and unexpected ways. The church today gets to be witness to the new thing that God is doing and it may be different than what we've ever seen. Understanding it all can be hard work, but holy.
What advice would you have for GC students interested in ministry?
The church benefits from all kinds of gifts. Anything God gives you can be used in ministry. Take time to explore and develop gifts, and be aware of how God might use them for the kingdom.