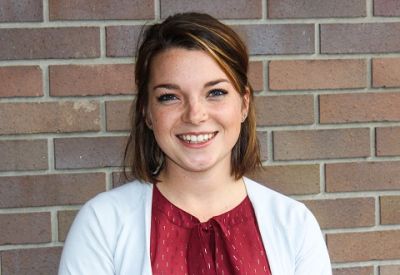 Maddie Ruth graduated in 2014 with a psychology major and music minor. She was a member of the tennis team, wrote for the campus newspaper, The Record, played violin in the GC symphony orchestra and sang in chamber ensembles.
What do you like most about Goshen and why?
I love that, at Goshen, I had the opportunities and encouragement to do things I might not have done at a larger school. For example, I was able to perform a piano solo with the orchestra and work on a research project alongside my psychology professors.
Why did you choose to come to Goshen College?
Something about Goshen College felt safe to me, but not safe in that I felt I would be sheltered. Rather, the atmosphere of the college was one in which I felt comfortable jumping in and pursuing a lot of interests from the moment I stepped on campus. The professors, additionally, were passionate about their fields and personally invested in the students, which made me feel like this was a challenge I wanted to take on!
How has Goshen College influenced your faith or worldview?
My favorite of GC's five core values is global citizenship. Through forming friendships with international students, traveling to Senegal with Study-Service Term (SST), and having discussions about intolerance and racism, I have become remarkably more aware of what it means to be a global citizen. I am passionate about becoming more informed about both the trials and sources of beauty in the greater world.
What do you hope to do with your degree?
I'd like to spend my next several years working closely with, and for, people from diverse populations in order to determine where my passions are best suited. I am volunteering this year as a teacher in Chad, Central Africa. In the near future, I hope to look into work in humanitarian aid or counseling.
What advice would you give a prospective student?
Don't let yourself be intimidated by all the new people you will meet at Goshen. Of course, they will seem impossibly interesting and they won't all be like your friends back home, but they want to meet you too! Amazing things can happen when you take the first step and extend your circle.
What was an influential experience you've had outside the classroom?
My SST experience taught me that actions speak louder than words. My best moments were those in which my host families and I were able to convey love, respect and delight for each other without having the crutch of a common language. These moments often occurred while squatting around a bowl of food under a canopy, lying out on mats under the stars or flailing around on a dance floor!