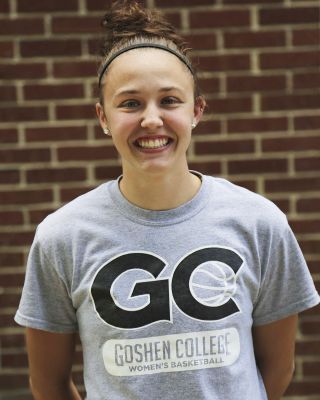 Kelsey Fraley was an exercise science major with a concentration in personal training from Olivet, Michigan who graduated in 2017. She was on the basketball team, track team and Campus Activities Council.
What do you like most about Goshen and why?
I like how welcoming and friendly everyone is. You can always expect someone to wave and say hi, and it makes my day better. Also, the professors are very willing to help you succeed.
Why did you choose to come to Goshen College?
Mainly because of the opportunities the college has to offer: sports, excellent education and the people.
How has Goshen College influenced your faith or worldview?
I love going to chapels and convocations. This never was the case back home. It has opened me up more, and I like listening to the word of God.
What do you hope to do with your degree?
I hope to go to physical therapy school and then start my own business. I'd also like to be a physical trainer on the side.
What advice would you give to a prospective student?
You are never alone. There are so many different types of people on campus. You can fit in just about anywhere. If you need people to talk to, there will be someone there.
What are you looking forward to?
I am taking History and Culture of Latinos next semester and I have heard it is a very good class. I hope that it will be an influential experience for me.