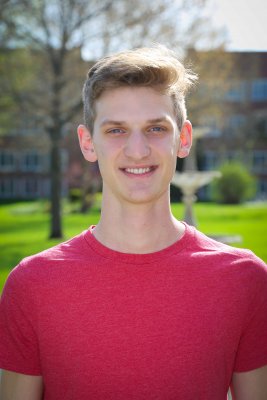 Ethan Lapp '20 is a  peace, justice and conflict studies and social work double major from Goshen. He was leader of the Prevention Intervention Network (PIN).
What do you like most about Goshen and why?
This is probably the cheesiest answer I could say but the small community. I came to Goshen to be in smaller classes and regularly see friends around campus and hang out in the dorms easily. It's especially nice with relationships with profs because you can easily talk to them. You can tell that they're actually invested in what you're wanting to learn and get out of your college experience.
Why did you choose Goshen?
I choose it for the community aspect. It's also kind of a family thing, both my sisters came here, they both had amazing times, and my parents went here too. One of the main reasons is the peace program, I knew that was something that I wanted to focus on when I was coming into college.
What's it like being at a small college so close to home?
My freshman year I tried to find that balance between having high school friends still around and my family and trying to make own life here at college. For my first year I tired to stay more in the college atmosphere and this year I've done more of a mixture of both of them. I've never had problems with it. It's nice to have that support from family just living half a mile down the road, but it's also very easy to make my own space and make my own life here.
What do you hope to do with your degree?
As of now, planning to move to a large city and do internships or small jobs related to the social work profession. Then I'll look to get my masters in social work within five years, in a perfect world in Seattle at the University of Washington. That's my highest hope.
What is your favorite experience at GC so far?
The campus activities, things like chocolate house and kick-off. It's always a great way to meet other people and see the diversity of opinions and talents that we have on this campus, whilst also having fun with friends.
What advice would you give a prospective student?
It's okay to be undecided. There's always time to figure out what you want to do and there's always time to switch things up. Also, participating, whether it's campus activities or doing things in the  community. Have an active lifestyle outside of classes and homework to have a full college experience.
What surprised you about Goshen College?
I think I came into it expecting a perfect little bubble of a college but when I got here I realized there has been and there still needs to be a lot of changes within communication fields between students, faculty and administration. But I've seen a lot of improvements just in the past two years that I've been here and I'm proud of Goshen for making those.