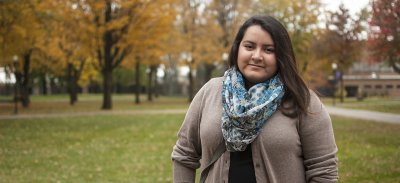 Diana Navarro, a 2016 graduate with a history major, knew Goshen had a tight-knit community. The friendliness on campus is still one of her favorite things about GC. A bonus, Diana said, is the small campus means that "you never get lost."
Why did you choose Goshen?
I chose to come to Goshen College because it is close to home and it has small class sizes. So I never feel homesick and if I need help from a professor, I know I can just ask.
How have your views changed?
I never thought much about wars or how they affected people's lives until coming to Goshen and taking a class about it. Hearing all of the convocations on peacemaking and on the environment makes me want to take more action to help, even if it is as simple as recycling a water bottle.
What opportunities have you had here?
Even during my first year at Goshen College I had many new opportunities to do things I never pictured myself doing. I went on my first protest in Atlanta, Georgia and I took a course on pollinators and harvested honey from beehives. These were totally new experiences that I will never forget.
What do you hope to do with your degree?
I hope to go to law school and become an attorney. I want to possibly work on immigration cases to help families in hard situations because it is a huge problem for many people in the U.S. today.
What makes Goshen different?
The diversity on campus really surprised me. I went to a mostly Caucasian school, so I never had friends from so many cultures before. I love talking to them and learning about their different traditions and experiences from their countries.