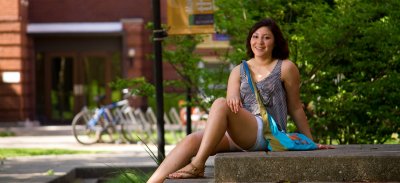 Aranza Torres is a 2015 social work graduate from Waco, Texas. She came to Goshen to study peace, and has since had the opportunity to create peace through advocating for the DREAM Act. 
Why Goshen College?
Aranza cares deeply about social justice. She heard about Goshen's peace, justice and conflict studies program, and the rest is history. She declared a social work major so she could apply her passion for social justice in a practical way.
"Goshen is a peace and social justice oriented school, and that was really important for me in coming to Goshen College."
When she got here, she felt right at home.
"Goshen is unique in that we have a large variety of students, but overall we tend to be very accepting."
What's happening on campus?
When Aranza got to Goshen College, she didn't hesitate to take charge. She is a leader in the Latin Student Union, and has put together a film series about the DREAM (Development, Relief, and Education for Alien Minors) Act, an issue that is close to her heart.
"The DREAM Act is a big passion of mine. I really like to educate people about it. That's important to me."
Aranza's passion for justice finds fertile ground to flourish at Goshen College.
"I've had a lot of really great conversations here, and definitely had a good time educating others about the DREAM Act in Goshen. I really think that a lot of students here at Goshen College understand it, and faculty members have been so supportive."
Where to from here?
Maybe she'll study international relations at graduate school, or perhaps she'll work to spread peace in tumultuous parts of Mexico. Wherever Aranza goes, Goshen College will have provided a launch pad for her dreams.
"I'm glad Goshen College has such passionate values; I think that will stay with me throughout my life. I also sense that I'm creating relationships here that I hope to keep, not only friendships, but contacts that might help my career in the future."
–written by Brian Yoder Schlabach, photos by Alex Pletcher '14