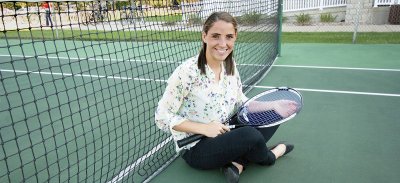 Anika Baumgartner is a biology graduate from Goshen. At Goshen College, she studied biology, played on the tennis team, participated in choir, joined pre-med club and traveled to Nicaragua with GC's Study-Service Term. 
Why did you choose Goshen College?
I was offered an opportunity to play tennis with an experienced coach who I was already familiar with, which was definitely a plus. Along with Goshen's exceptional academics and music, I had heard a lot of positive remarks about the Study-Service Term program, which provides a unique cross cultural experience.
How has your faith changed?
I came into the college with a strong Mennonite background, but I was able to take more ownership of my faith after coming to GC. It was encouraging to meet people at different points in their faith journey without having to put on the face that 'we all have it figured out.'
What do you hope to do with your degree?
As a biology major, I hope to attend a graduate school for physical therapy in order to become a pediatric physical therapist. It is nice to know that my degree will provide many options both in the health field and in research if I change my mind or want to pursue something else later on.
What makes Goshen different?
I think that Goshen College strives to not only be a place of learning, but a place in which students can grow in many other values. GC encourages students to carry out the values of the college in their own ways while also giving them an opportunity to carry out the core values of servant leadership, compassionate peacemakers, global citizens, passionate learners and Christ-centered individuals on campus.