Physics Department Research Programs
Physics students have multiple opportunities for research and internships:
Physics faculty research projects
Goshen students have worked on research with Goshen faculty members.  There are opportunities during the school year, and more intense opportunities for summer research, through the Maple Scholars program.
Each summer the Maple Scholars program pairs students with a faculty mentor for 8 weeks of research. Creating a a community of scholars, the students are all housed together and in the Friday colloquium,  scholars take turns presenting the work they are doing and answering questions from other students and faculty.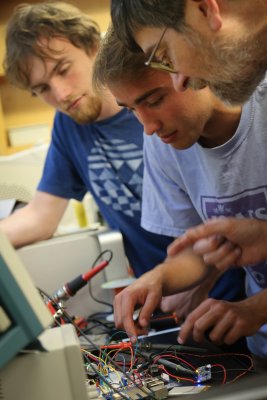 While physics majors often work with professors from the Physics Department, they can and do with professors from other departments. Some recent Maple Scholars projects involving physics majors:
External programs
Students have taken advantage of external REU programs, done research at national labs, and worked in engineering bureaus in and around Goshen.  A few recent examples:
Drew Smoker '24, researched forest products in her summer 2022 REU internship at the University of Maine.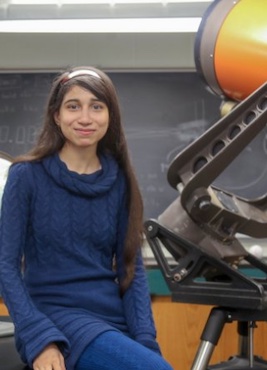 Ebtihal Abdelaziz '22 (at right) analyzed photon polarizations for a cosmology experiment at Fermilab during the summers of 2022 and 2021.
Lucas Sauder '22 worked part-time for a local water engineer, designing municipal water distribution systems during his college years.
Ryan Haggerty '20 gathered data on rural bridges for a summer REU in the Civil Engineering Department of the University of Nebraska-Lincoln.