Electronics Show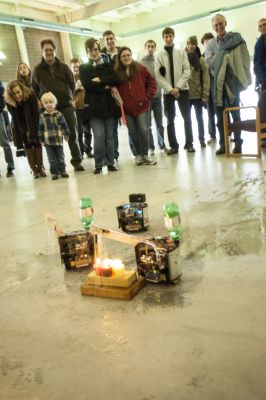 Every other year, the Electronics class puts on a show of robotics and other electronics projects for the whole campus. Recent projects included a 3-D printer, drone quadcopter, firefighting robots, a self-balancing scooter, a robotic arm that mimics humans, a self-writing whiteboard and more.
View our archive of Electronics Show projects
Learn more about the physics of music at Goshen.
GC Professor John Buschert and John Miller '14 take "Music Maker" to Georgia.
Check out our solar panel project, a student-driven and faculty-supported project that harnesses solar energy to heat the shower water in the Recreation-Fitness Center (RFC) at Goshen College.