Miller and Buschert: Finalists in Guthman competition
Physicists visit the Guthman competition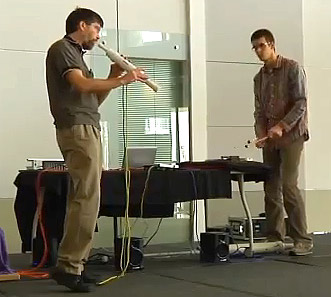 John Miller, has been constructing new musical instruments in the basement of the Science building for the last year with Professor of Physics John Buschert.
Last week the two traveled to Georgia Tech for the annual Guthman Musical Instrument Competition, and advanced to the final round of the contest.
The Guthman competition is meant to reward new ideas in musicality, and related design and engineering.  Other entries this year included a suit made of cassette tapes that could be sampled with hand held pickups, and a system that turned muscle signals into live music.
Miller and Buschert brought a suite of instruments they dubbed "Musician Maker" to the competition.  "We're designing instruments and electronics that allow a group of musical novices to play along and improvise to a pre-programmed melody.  Sort of like a karaoke version of a chamber quartet", said Buschert.
Their "marimbar" is a plain slab of aluminum played with xylophone mallets.  Striking it causes a note to sound which is in harmony with the melody–higher or lower depending on where the bar is struck.
Other instruments include
the Obloe– a plastic cylinder that you blow into (volume) and twist (pitch),
the Pluck-n-Play–  a PVC creation inspired by a "real" instrument–the string bass–that Miller plays in the Goshen College orchestra,
the  Sway-n-Play involves squeezing and bending a standing joystick.
More video is available on the Guthman Competition 2012 website, including the final and preliminary performances of Music Maker.