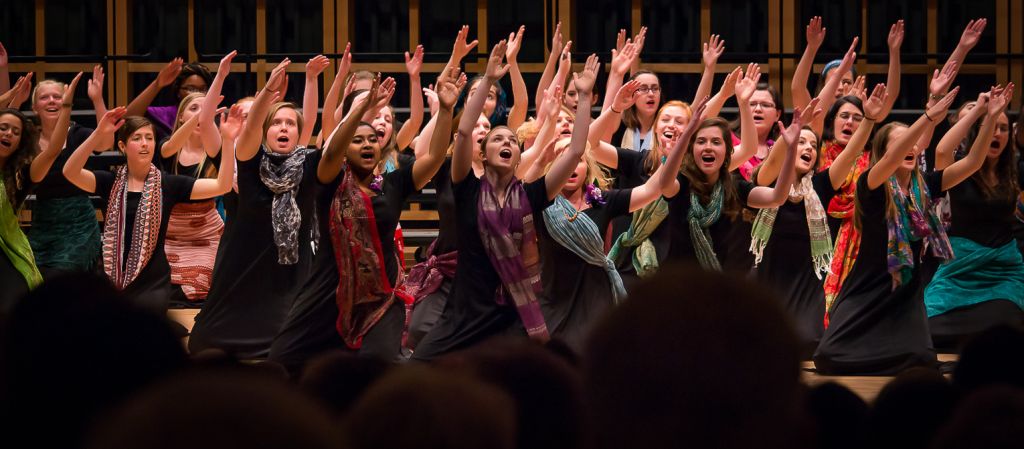 The goals of Goshen College's Voices of the Earth are to discover and perform spiritual music of many cultures, both national and international, particularly indigenous cultures. The choir highlights the role of womxn in these cultures, celebrating the unique spirit, faith and energy that womxn bring to the world as creators and sustainers of life and art.
"When you sing, you have no evil thoughts, and when you are dancing, you feel less hungry."
Esma Redzepova, Roma (gypsy) performer and singer
H. Roz Woll, director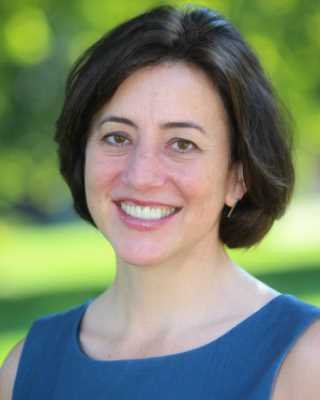 H. Roz Woll, DMA, is an Assistant Professor of Music at Goshen College, where she teaches voice and directs the choir, Voices of the Earth. She recently moved from New York City, where she taught voice, vocal pedagogy, and directed the Women's Choir at Queens College, City University of New York. Prior to living in New York, she was a conductor with the Chicago Children's Choir for nine years, directing the Hyde Park Neighborhood Choir and choirs in ten Chicago public schools. As a singer, she has played Dinah (Trouble in Tahiti), Lucretia (The Rape of Lucretia), Grace (Roman Fever), the Announcer (Gallantry), Florence Pike (Albert Herring), Viola (L'infedeltà fedele), Dame Doleful (Too Many Sopranos), and Nancy (Oliver). With Downtown Music Productions she has appeared in Honoring Langston Hughes, and Yom Hashoah: Holocaust Remembrance Program, and with Music in Midtown she appeared in American Spirituals, featuring the music of Roy Jennings, and in The Songs of Richard Hundley – A Celebration. She has been a professional member of the Chicago Symphony Chorus and the Grant Park Symphony Chorus, and has been a community member of the gospel group, Choral Thunder, and of the Cathedral Choir at Abyssinian Baptist Church. She received her Bachelor of Music Education with a concentration in piano at Indiana University and her Master of Music in vocal performance from Roosevelt University's Chicago College of Performing Arts. She recently finished her Doctorate in Musical Arts at the CUNY Graduate Center with a certification in Africana Studies, and her research interests address connections between arts education, the political economy of race, and global citizenship.
AUDIO SAMPLES
2023-24 Concert Schedule
For tickets, please visit the Goshen College Box Office.
Homecoming Music Gala: Sat. October 7, 2023, 7:30 p.m., Sauder Concert Hall
Fall Choral Concert: Sat. October 28, 2023, 7:30 p.m., Sauder Concert Hall
GC Choirs & Elkhart County Symphony: Sun. November 5, 2023, 7:30 p.m., Sauder Concert Hall
Treblefest Festival Choral Concert: Tues. November 7, 2023, 7:30 p.m., Sauder Concert Hall
A Festival of Carols: Fri.-Sat. December 1-2, 7:30 p.m.; Sun. December 3, 2022, 4:00 p.m., Sauder Concert Hall
Winter Choral Concert: Sat. February 10, 2024, 7:30 p.m., Sauder Concert Hall
EARTHTONES: Songs from Many Cultures: Sat. April 20, 2023, 7:30 p.m., Sauder Concert Hall