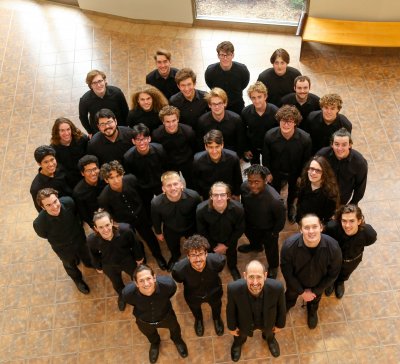 Vox Profundi, founded in January of 2004, follows in the long tradition of Goshen College low voice singing groups beginning with the men's glee clubs and the Rambler Quartet of the early 1900s. Vox Profundi performs music from all genres and time periods with special emphasis on sacred a cappella literature. The group performs in on-campus choral concerts and represent the college on periodic tours.
Scott Hochstetler, Conductor
Scott Hochstetler, DMA, is Professor of Music at Goshen College, where he teaches in the choral, vocal and opera/musical theater programs. Dr. Hochstetler is a diverse conductor, having successfully led church, school, college, and community ensembles, and worked with singers from novice to professional. Under his direction, Vox Profundi (formerly the Goshen College Men's Chorus) performed to acclaim at the ACDA regional convention in March 2012. Hochstetler regularly clinics choirs and has led groups on tours throughout the USA and Canada. Hochstetler guest conducted over 450 singers in the 2016 Mennonite Secondary Council Choral Festival and was the guest clinician for the IMEA Area 2A Circle the State with Song festival in February, 2020. Hochstetler has also directed the area professional chorus, St. Joseph Valley Camerata, since 2011. As a baritone, Dr. Hochstetler has performed opera and oratorio roles and given recitals in Indiana, Michigan, Ohio and Oregon. Most recently, he appeared with the GC Choirs and Orchestra as the baritone soloist in Brahms' Requiem in the fall of 2019. With graduate degrees from the University of Michigan and Michigan State University, Dr. Hochstetler has studied conducting with David Rayl, Sandra Snow, Jonathan Reed, Jerry Blackstone, Theodore Morrison and Kenneth Kiesler, and he has studied voice with Leslie Guinn, Stephen Lusmann and Doyle Preheim.
Read Scott Hochstetler's full bio
Audio Samples
2023-24 Concert Schedule
For tickets, please visit the Goshen College Box Office.
 Homecoming Music Gala: Sat. October 7, 2023, 7:30 p.m., Sauder Concert Hall
Fall Choral Concert: Sat. October 28, 2023, 7:30 p.m., Sauder Concert Hall
GC Choirs & Elkhart County Symphony: Sun. November 5, 2023, 7:30 p.m., Sauder Concert Hall
A Festival of Carols: Fri.-Sat. December 1-2, 7:30 p.m.; Sun. December 3, 2022, 4:00 p.m., Sauder Concert Hall
Winter Choral Concert: Sat. February 10, 2024, 7:30 p.m., Sauder Concert Hall
Low Voice Festival Concert: Tues. April 16, 2024, 7:30 p.m., Sauder Concert Hall
EARTHTONES: Songs from Many Cultures: Sat. April 20, 2023, 7:30 p.m., Sauder Concert Hall