The Mary K. Oyer African Music Archive is a collection of 150 tape recordings that Goshen College Professor Emerita of Music, Dr. Mary K. Oyer, collected during her time in 22 countries in Africa in the 1970s and 1980s. These field recordings have been digitized and catalogued to be more accessible as research tools and for public use. This collection is also a part of the Indiana University Archive of Traditional Music.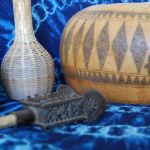 Primary Research Topics
Traditional (indigenous) music, still practiced in the period 1969-1987 in Africa
Church music (showing the influence of the changes that took place in the 1960s, especially Vatical II):

AIC: African Independent (later African-initiated) Churches
Western mission churches, especially Mennonite

Traditional music instruments

Collecting instruments, especially chordophones
Lessons in playing, especially one-string fiddles and mbiras
Historical and cultural aspects
Project History
To read about the history of this project, click here.
The Process
Each tape, of the collection of 150, was transferred to a digital file using an audiobox. Each digital file was then separated into individual tracks in order to facilitate easier access to individual music examples. Each track was entered into the database, listing specifics about each track, including but not limited to information about: recording date, country and distinct characteristics about instruments, voices and dialogue
Interviews With Mary K. Oyer
During the summer of 2012, Lisa Horst Schrock began interviewing Mary K. Oyer about the field recordings and Oyer's travels in Africa. The result of these interviews can be heard in full as the 96 interviews correspond with Oyer's field recordings. These interviews are also a part of Indiana University's Archives of Traditional Music under Lisa Horst Schrock Interview Collection.
Access to the Database
If you wish to access the database, contact GC Music Department Office Coordinator Dustin George-Miller for a password and further instructions.
We encourage you to also search for the database through Indiana University's Archives of Traditional Music.
People Involved
Dr. Mary Oyer – Goshen College Professor Emerita of Music, Ethnomusicologist, Hymnologist
Dr. Debra D. Brubaker – Goshen College Professor of Music, Maple Scholars Research Supervisor
Solomon Fenton-Miller – Maple Scholars Researcher (2006)
Lisa Horst Schrock – Maple Scholars Researcher, Interviewer (2012), Archivist (2013)
Special Thanks
Made possible through the generous support of: Goshen College, the Goshen College Music Department, Robert Weaver, Robert Brunk, Barry & Marjorie Weaver, William & Joyce Zuercher, and Anonymous.
For more information, please contact faculty advisor Dr. Debra Brubaker.