Reflections of Light
The 2017 choir tour features the Women's World Music Choir, traveling to Ontario, Canada, February 25 – March 5.
The women will be sharing songs from South Africa, Estonia, Bulgaria, and Canada in addition to singing from the traditions of the Inuit people of the Arctic Circle, First Nations women, and the American spiritual tradition. The choir is directed by Dr. Debra Detwiler Brubaker, professor of music. The tour is managed by Dan Koop Liechty, Ph.D., director of alumni and career networks.
Read more: Tour program | Tour post card | Tour blog | Press release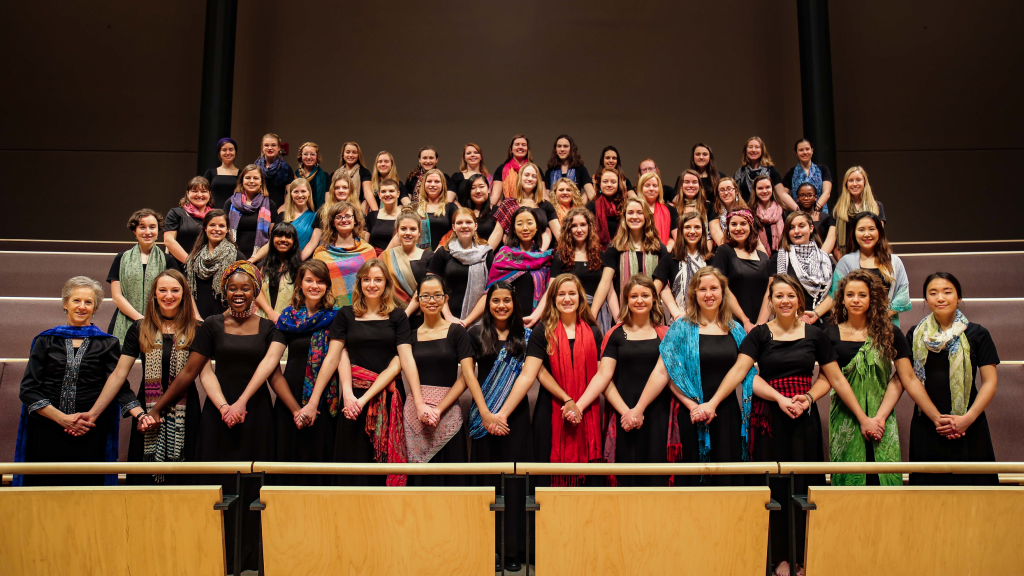 Join us at the following locations for our 2017 Reflections of Light tour
Saturday, February 25 at 10:30 a.m.
Evergreen Place, Greencroft Retirement Community
1721 Greencroft Blvd, Goshen, Indiana
Sunday, February 26 at 10:45 a.m.
Waterloo North Mennonite Church
100 Benjamin Rd, Waterloo, Ontario
Sunday, February 26 at 7:00 p.m.
Joint concert with the Good Hearted Women Singers
St. Jacobs Mennonite Church
1308 King N, Woolwich, Ontario
Monday, February 27 at 7:30 p.m.
Knox United Church
236 Garafraxa N, Durham, Ontario
Tuesday, February 28 at 9:25 a.m.
Chapel at Rockway Mennonite Collegiate
110 Doon Rd, Kitchener, Ontario
Tuesday, February 28 at 2:00 p.m.
Parkwood Mennonite Home
726 New Hampshire St, Waterloo, Ontario
Tuesday, February 28 at 7:00 p.m.
Vineland United Mennonite Church
3327 Menno Street, Vineland, Ontario
Thursday, March 2 at 12:15 p.m.
Chapel at UMEI Christian High School
614 Mersea Rd 6, Leamington, Ontario
Sunday, March 5 at 7:30 p.m.
Sauder Concert Hall,Goshen College Music Center
1700 S. Main St, Goshen, Indiana