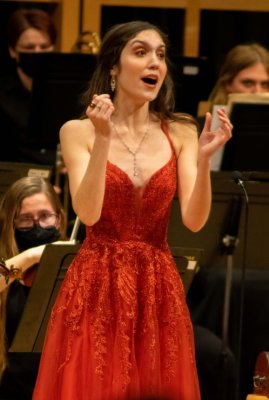 For incoming music students in 2024-25
Students interested in a music major or minor are eligible for Music Achievement Awards ranging from $2,000 to $10,000 annually. Ensemble Grants of $1,000 annually are also available for students not planning to major or minor in music. All instruments and voice parts are encouraged to apply.
Music Scholarship Application
Music Scholarship Reference
Music Scholarship Audition Information
2023-24 Audition Dates
Exact audition times will be assigned by the Music Scholarship Coordinator.
Friday, October 27, 2023 – 1-3 pm
Saturday, October 28, 2023 – 10 am-1 pm
Friday, January 19, 2024 – 1-3 pm
Saturday, January 20, 2024 – 1-3 pm
Friday, January 26, 2024 – 1-3 pm
Saturday, January 27, 2024 – 10 am-noon
Friday, March 15, 2024 – 1-3 pm
Friday, March 22, 2024 – 1-3 pm
Friday, April 12, 2024 – 1-3 pm
Music Scholarship Eligibility
Music Department Achievement Awards ($2000 – $10,000) are available to:
First-year students who will participate actively in the music department and who anticipate a music major or minor. For students who declare a minor or major in music after their first year, scholarships will be renewed for six additional semesters. Recipients must be eligible for admission to Goshen College and maintain a 3.0 cumulative GPA.
Transfer students who are declared music majors or minors and have a cumulative college GPA of 3.0 or higher.
In addition to the Music Department Achievement Award, a student is eligible for one more award from the following list: Academic Scholarship, Anglemyer Education, Athletic, Gorsline Business/Communication/Theater, Swallen Missionary, and Tuition Discount Benefits. Goshen College limits merit awards so that more funds can be awarded on the basis of financial need. Applications are accepted for any number of awards.
Ensemble Grants ($1000 – $2000) are available pending audition and ensemble need for:
Incoming students who are ready to commit to continuous ensemble membership for their Goshen College tenure but are not planning to major or minor in music. The application and audition procedures for Ensemble Grants are the same as for music scholarships.
Procedure for Applying
If you haven't already, complete your application for admission to Goshen College.
Complete the Music Scholarship online application.
Be sure to indicate on the audition application on which date you intend to visit campus and audition in person, or if you plan to submit a recorded audition.
Ask your music teacher to complete and submit the online reference form. One music reference is required.
Audition Procedures
Each applicant should prepare an audition of 10 minutes, which can include vocal and/or instrumental performance.
Applicants may audition in more than one area (voice/instrument). However, a music scholarship is normally granted in the area of greatest strength.
Music selections should come from the standard core repertoire and should represent at least two contrasting styles and tempi per instrument.
Vocalists are encouraged, but not required, to perform at least one selection in a foreign language.
Pianists and vocalists are encouraged to perform from memory.
Please note that, in the interest of time, the reviewing music faculty may cut off a live audition at the end of 10 minutes. This will have no impact on the results of your scholarship audition.
For live auditions, no recorded accompaniments are permitted. Unaccompanied repertoire is allowed.
Recorded auditions may be shared with dustingm@goshen.edu. Video recordings are preferred, audio recordings are also accepted. Our preferred format is either shared via YouTube, or a digital file shared by Google Drive, Dropbox, or other file-sharing service.
If auditioning on an instrument for the Ensemble Grant, one of the selections can be an excerpt from an instrumental score.
Those auditioning in person may also be asked to take a short music theory placement exam that will be administered during the audition process. The exam results will have no impact on the results of your scholarship audition.
Renewal of Music Scholarships
Music Achievement Awards may be renewed for an additional six semesters after the first year by continuing to major or minor in music or music education at Goshen College, by maintaining a grade point average of at least 3.0 and by continuing core ensemble activities and lessons as prescribed by the music department chair in the award letter.
Ensemble Grants will be renewed if commitment level remains strong. Ensemble grant recipients should plan to take applied lessons on their instrument (2 credit hours) at least once before the third year of the award.
Application Deadline
While there is no set audition deadline, scholarship availability is limited, so applicants are encouraged to submit their auditions as early into their senior year as possible.  
Questions?
Questions about the Music Scholarships or the audition procedures can be directed to Dustin George-Miller in the Goshen College Music Department: (574) 535-7361 or dustingm@goshen.edu