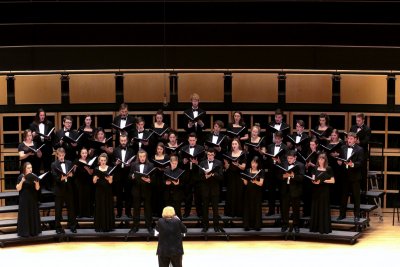 The Goshen College Chamber Choir is an auditioned group of 24-45 students performing secular and sacred music from the Medieval through Modern periods. The group is open to all majors and grade levels. In addition to performing with area and regional orchestras, the Chamber Choir performs numerous solo concerts both on and off campus during the school year.
Request information about studying music at Goshen College
Scott Hochstetler, conductor
Scott Hochstetler, DMA, is professor of music at Goshen College, where he teaches in the choral, vocal and opera theater programs. He is also the musical director of St. Joseph Valley Camerata, an area professional choir. Previous appointments include Western Mennonite School (OR), the University of Michigan – Flint, and Corban College (OR).
Read Scott Hochstetler's full bio
Audio Samples
2019-20 Concert Schedule
Homecoming Music Gala: Saturday, October 5, 2019, 7:30 p.m., Sauder Concert Hall
GC Chamber Choir & St. Joseph Valley Camerata: Friday, October 25, 7:30 p.m., Sauder Concert Hall
GC Combined Choirs and Symphony Orchestra: Saturday, November 9, 2019, 7:30 p.m., Sauder Concert Hall
A Festival of Carols: Friday-Saturday, December 6-7, 2019, 7:30 p.m.; Sunday, December 8, 4:00 p.m., Sauder Concert Hall
Winter Choral Concert: Saturday, February 8, 2020, 7:30 p.m., Sauder Concert Hall
EARTHTONES: Songs from Many Cultures: Saturday, April 4, 2020, 7:30 p.m., Sauder Concert Hall